Newcastle's crunch BBL clash with Leicester is 'too tough to call'
Newcastle's crunch BBL clash with Leicester is too tough to call, says Daniel Routledge.
Last Updated: 18/03/13 9:15am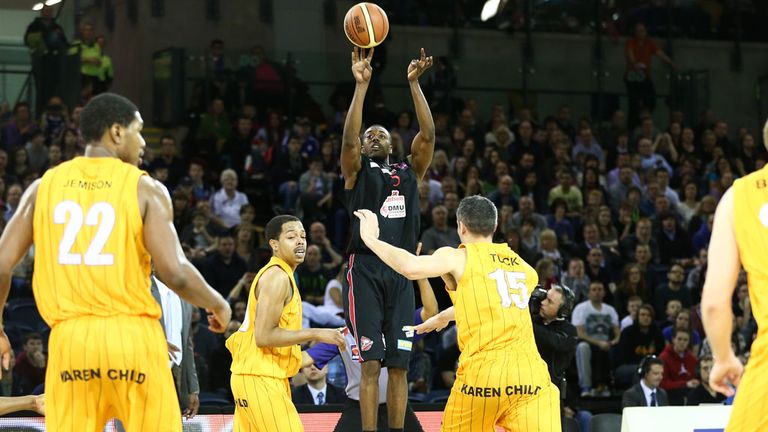 On Wednesday night Leicester play host to Newcastle in a game the champions quite simply have to win - no ifs, buts or maybes. A Riders win equals a Riders title, whatever Rob Paternostro may tell you.
With a four-game lead and the head-to-head, even if Riders do a Devon Lock they'll have enough time to get back up, remount and canter home.
If the Eagles win, it won't bring the title race back into their hands, but it will mean they just need one slip-up from Leicester to have a shot at it.
Heart
Interestingly they have almost identical run-ins so the schedule shouldn't skew it one way or another.
Obviously they play each other twice, both in Leicester, but both are also at home to Durham and Glasgow and away to Worcester and Mersey. The only divergence in their fixtures is Newcastle go to Sheffield twice, whilst Leicester go to Manchester and London, again not a massive difference in those four games.
Using the eyeball test, I should be edging towards Leicester given what I saw at the weekend. Both teams hosted Plymouth and I was able to see both games and regardless of the results (Newcastle lost and Leicester won), the Riders looked more likely champions.
Without taking anything away from Plymouth, who were great, I'm not sure I've seen the Eagles as flat as they were in the first half of our televised game. I have to say I was struggling to digest it, they looked shot.
In the second half we saw the heart of a champion, as the Eagles fought back, but it wasn't enough as the Raiders hung on and Newcastle suffered a fourth straight home loss for the first time in 13 years.
Entertaining
Fast forward 48 hours and Leicester looked full of life despite being on the back end of a double-header and being without Pavol Losonsky and Zaire Taylor through injury.
Plymouth played well, and obviously they were missing Mike Ojo as well which is a big blow, but Leicester always looked the likelier in what was a really entertaining game.
Jay Couisnard had a big weekend, having hit the game winning free throws on Saturday, he posted 34 points and 10 rebounds in an immense display against the Raiders.
Going in I thought Leicester might drop one this weekend, especially without Losonsky and definitely when Taylor went down, but they found a way to win both.
I'm told Fab Flournoy will be back for the game and Newcastle need his defence and leadership. I expect Losonsky to be back too, although how much either man can give will be interesting to see. Whether Taylor can return from the thigh injury he picked up at Surrey remains to be seen, but I hope both teams are at full strength, such a game deserves it.
And so I'm left with conflicting logic. What I saw this weekend would tell me Leicester look in better shape, but what I've seen for the best part of a decade tells me Newcastle win games when Newcastle have to win. Suffice to say I'm looking forward to it!
Run
Behind them there are two very interesting races going on. Glasgow, Worcester, Plymouth and Surrey are duking it out for a top four finish. Glasgow and Worcester seem the form sides in that race, but they were chasing down the other two, can they maintain that into the final few weeks of the season.
In the battle for play-off places Sheffield look to have found their form and London have the wins on the board, but I still think at least one of Cheshire, Manchester and Durham are going to make a real run at it. The Nix will doubtless be boosted by their win over Surrey on Sunday.
The games are coming thick and fast, but none will be more important than this Wednesday's showdown between the Riders and Eagles. You've got to love this time of year!