Leicester are the best, regardless of BBL play-off final result with Newcastle
Leicester Riders are BBL's finest this season, says Daniel Routledge, even if they lose the play-off final.
Last Updated: 23/04/13 11:47am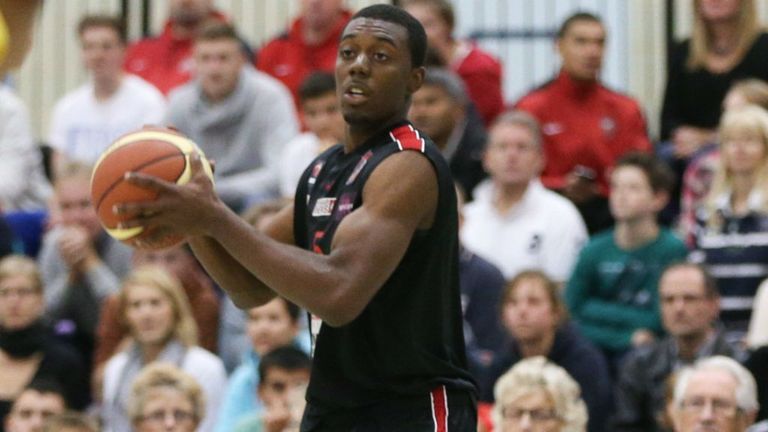 The rise of the Riders in recent years has seen them become the major challengers to the Eagles' throne atop British basketball. Whatever happens this Sunday, Leicester will be rightly be lauded as the best team in the country this season.
But they won't want their campaign, far and away the best in the club's history, to end the way last season's did, with a heart-breaking play-off final defeat by Newcastle. Similarly the Eagles will not want to be empty-handed with three of their four trophies already removed from the cabinet.
And that is probably the most intriguing thing about the final, both teams desperate to prove something, both with an element of revenge in the air.
Newcastle went into January's Cup Final as favourites, but considering the last few months, Leicester should be the bookies' choice.
The Riders have beaten the Eagles four times this season, once in the Cup Final and three times in the league, although Newcastle gave three of their stars the night off for that last game of the campaign so that result is downgraded in my eyes.
Their length in the wings seems the perfect antidote for Charles Smith and Joe Chapman. They defend the ball relentlessly and have enough inside to cope with the Eagles' bigs. There are intangibles to consider though before handing Leicester a treble.
Losing pains
Newcastle are fully fit and fueled by the scars of their trophy-less 2011. That fired them to four trophies last year and it will fire them again this weekend. Secondly, it is very hard, no matter how good you are, to beat a team of Newcastle's quality five times in a row.
I've seen every meeting between the teams this season and Leicester were good value for their wins. I recall the Riders leading for most of the games. You could argue leading at the end is key, but to lead for so long against a team of Newcastle's quality is telling.
I feel Newcastle have the edge in offence, perfectly highlighted in the semis. Newcastle dominated Surrey in the first leg, bossing the boards and overwhelming them with a weight of scoring.
Leicester scored 24 in the first half of their home leg, but won by 16 because they restricted Plymouth to 60 points. Newcastle scored 46 points than Leicester across the two legs and yet the Riders had the bigger aggregate win.
Newcastle can score massively, while Leicester haven't really shown that power. They've won by strangling opponents and waiting for them to wilt under relentless pressure. It's why they've won so many games, particularly on the road, from losing positions. They play the 40-minute game when they might not lead until late on. They usually are at the buzzer.
Team averages demonstrate this. Both sides have a plus/minus of just over 12 points per game, but Newcastle were second in the league in scoring and Leicester fourth from bottom. Riders were miles clear in points conceded, but had the second lowest points against per game average in BBL history at 68.73.
Thrills and spills
The old adage of offence wins games, defence wins championships is usually true, but we're down to one game now. Offence can beat defence in one game! I've eulogised about Leicester's defence, yet let's not forget that Fab Flournoy has built his reputation and Newcastle's bulging trophy cabinet on stopping teams.
Being great offensively doesn't mean they can't perform at the other end.
If Newcastle reach the high 80s or above, they win. If Leicester keep them in the low 70s or below, they win. Anything in between, which is where my money is, and we'll have the sort of final we saw this time last year and in January, when these teams thrilled us to the final moments with Newcastle winning the play-offs and Leicester the cup.
It should be a classic!
It's an 8,500 sell-out at Wembley Arena this Sunday, so if you aren't one of the lucky ones to have a ticket, the only place to see it is with us on Sky Sports.
And before I go, may I just add 'say it ain't so'! Rumour is Colin O'Reilly is calling time on his playing career at only 29, which is way too soon in my book. He's only been in the BBL for a few years, but he's always been great fun to watch and is a top quality player to boot. Plus with my family links to the south west of Ireland, I'll miss hearing that great Cork accent in post-match interviews. Good luck to him whatever he decides to do.