Scott Quigg: still wants the big names and the big fights after his latest world title defence
Super-bantamweight champion faces another changed challenger
By Richard Damerell
Last Updated: 10/09/14 1:31pm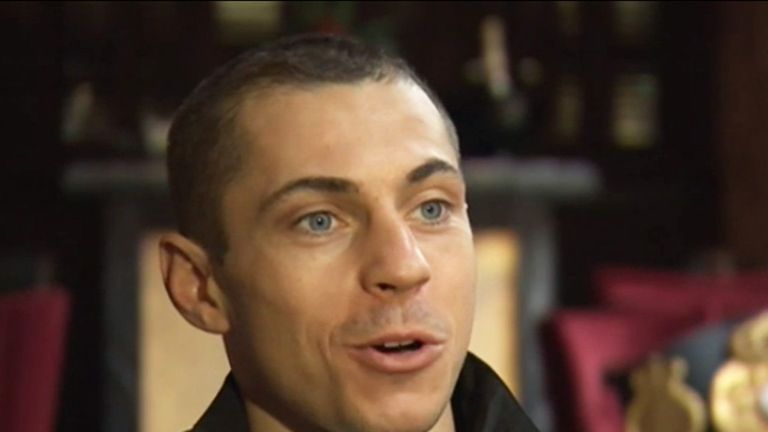 Scott Quigg has shrugged off another change of opponent but remains determined to face the big names in the super-bantamweight division.
The Bury fighter was due to defend his WBA title against Paulus Ambunda, but the Namibian pulled out through injury, meaning the champion will now face replacement Stephane Jamoye, on September 13, live on Sky Sports 1.
Glory Road Tickets
Phones4U Arena
Manchester
13th September
Experience the thrill of live boxing and visit Sky Tickets now to book your seats for this event.
No booking fees or delivery charges apply.
This is the second successive fight in which Quigg's preparation has been disrupted, as the dangerous Tshifhiwa Munyai was named as a new foe just over a week ahead of his last bout in April.
On that occasion the champion was far from unsettled, despatching the South African with a crushing second-round stoppage, and he is not concerned by another switch of opponent.
"We get an opponent and it happens again where he pulls out and it could be frustrating, but if I let it frustrate me it's going to affect me," he told Sky Sports.
"Boxing throws up all sorts of surprises - you have got to expect the unexpected. As long as I'm 100 per cent ready, focused, sharp and whoever is in the opposite corner - I've got to take care of them and that's the only thing I think of.
"Nothing has affected me, I feel in the best shape I have ever been. I feel like you are going to see the best Scott Quigg that you've ever seen."
Shunned
A win over Ambunda, a former world champion, would have enhanced Quigg's reputation as one of the division's rulers, but he pays little attention to critics who have questioned when he will face one of his main rivals.
The much-talked about clash with Belfast's Carl Frampton has failed to materialise, while attempts to secure world title unification fights with Leo Santa Cruz (WBC) and Kiko Martinez (IBF) have been shunned.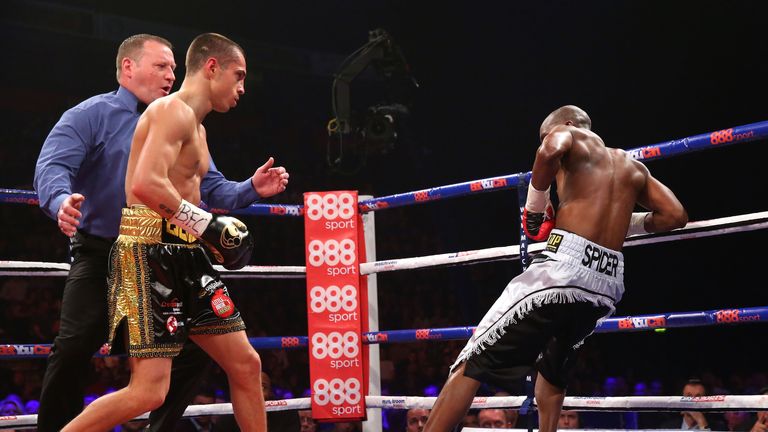 Quigg is totally confident in his ability to compete with the best and insists he has nothing 'to prove' to his doubters.
"People they judge you and I just take it with a pinch of salt," he said. 
When you are doing well, people want to bring you down. Critics, they just inspire me and drive me to do even better and train even harder
Scott Quigg
"They were picking Munyai to cause an upset last time out. We took the Munyai fight, nobody would have taken that. That was a totally different style of fight, he had been over here, had been in the country sparring and was in shape. 
"When you are doing well, people want to bring you down. Critics, they just inspire me and drive me to do even better and train even harder. 
"I don't need a big name to prove anything to me or to prove anything to anybody else. I want those big names because I want to be involved in those big fights.
"It's got nothing to do with me having to prove to anybody else. I know what I do in the gym, how I train, how I dedicate my life to the sport."
Stopped
Santa Cruz is preparing to defend his WBC title against the little-known Manuel Roman on the undercard of Floyd Mayweather's rematch with Marcos Maidana.
Quigg has revealed how he offered to face the Mexican on the high-profile bill in Las Vegas.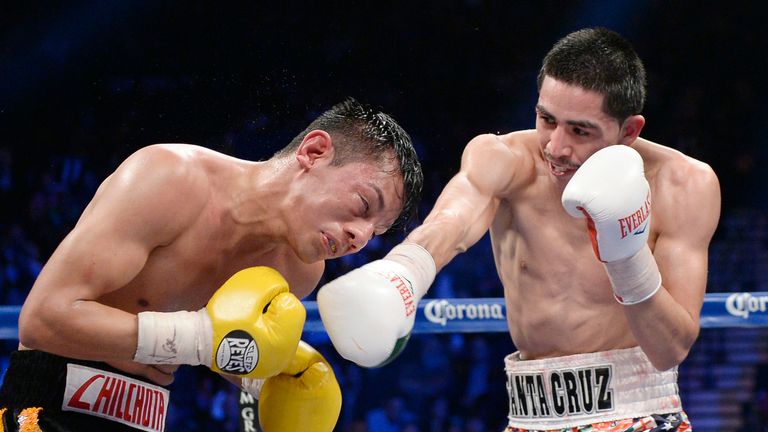 "I wish he would have mentioned me before I had an opponent and he had an opponent," said the 25-year-old. "I was willing to fight him on the Mayweather card. I would have done that at a drop of a hat. 
"Apparently (promoter) Eddie Hearn got in touch and said we would travel to America. He said no."
Quigg will be an interested onlooker when Frampton challenges IBF champion Kiko Martinez, a man 'The Jackal' has already stopped, but he will not wait around for the Irishman if he emerges victorious on September 6.
"I'll fight him anywhere, it doesn't bother me. He doesn't mention my name anymore. They know I want the fight," said Quigg. "I don't need him, but all the talk that I don't want the fight is nonsense."
Tickets for Scott Quigg's world title defence, and Anthony Joshua's Manchester debut are available now online. Go to ticket.sky.com/Boxing.