Boxing Expert & Columnist
Johnny Nelson admits he was in awe of 'modern-day great' Manny Pacquiao
Last Updated: 28/01/15 10:15am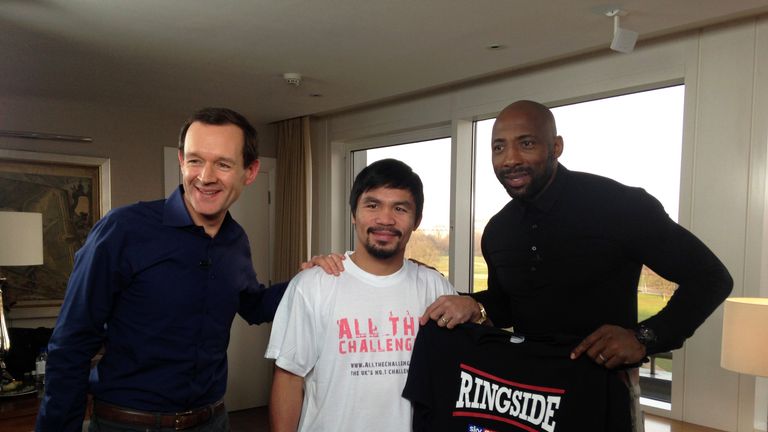 Manny Pacquiao was in town so Johnny Nelson spent the day with him and found out a different side to him...
It has never happened before but when I met up with Manny Pacquiao last Friday I have to be honest and tell you I was star-struck.
Yes I've met him before, I've even been in his training camp before but spending the day with him without a fight to prepare for, was fascinating. Watch Ringside Special, 10.15pm, Wednesday, Sky Sports 1 and you will see what I mean.
It made me realise this guy is a modern-day great. We don't use that very often and we all talk about legacies and the rest of it and of course we spoke to him about Floyd Mayweather and what's next, but here and now, Pacquiao is right up there.
Dare I say it but I was in awe of him as well. The way he spoke about other fighters and other big-name opponents was amazing because he was – and will no doubt be - seeing them all from a different angle.
We chatted about Marco Antonio Barrera, Oscar de la Hoya and Juan Manuel Marquez, Miguel Cotto and even Mayweather but he was just talking about them as weights. Not even names!
"I had to get up one, down one, put on so-many pounds to fight. It was unreal. Here we were talking about some of the biggest and best fights of our generation and he was seeing it from a completely different viewpoint.
Chaos
He said he doesn't get mixed up in all that media stuff and remains professional and polite to fighters and all he wants to do is beat them and move on. 
Yet when we got on to him being beaten, put on the floor and getting back up, it really showed how he sees things.
The most famous fighters we've got have all won, lost and drawn yet they got to the very, very top. They did that because they have learned things, and Manny has done the same. He doesn't blow his own trumpet. He doesn't have to, but he never will.
I am not going to give too much away so you have to watch our Ringside Special but he does talk about life out of the ring as well, what goes on in his surroundings and how he sees things. I am sure you will realise that this guy gets it. He really does get it all.
As for the trip down to Fitzroy Lodge, it was of course utter chaos but he handled it all, so, so well, he really did. 
It was the world's worst-kept secret and he was mobbed and rushed but accommodated every single person who wanted a selfie, to shake his hand and to talk to him. 
Don't forget he had only flown in the day before but he spoke to us honestly and openly, then down to the gym and plenty of other things to do before flying out again.