Jason Quigley ready for a world-class opponent as speculation continues about WBA title fight
By Richard Damerell
Last Updated: 17/08/18 4:36pm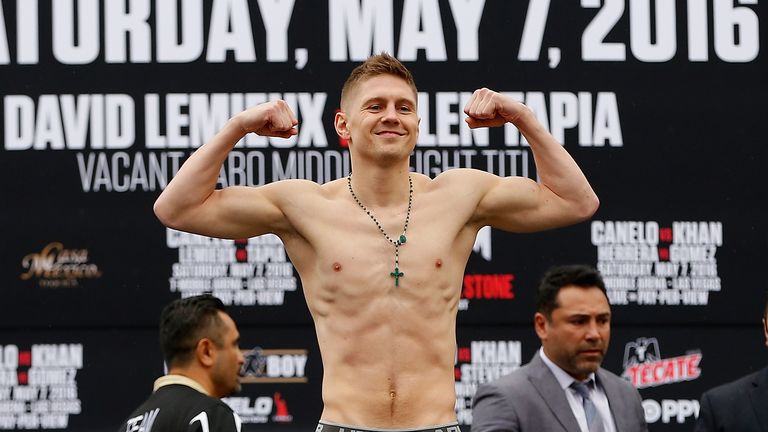 Jason Quigley says he is ready for a world-class opponent as speculation continues about a possible fight against WBA middleweight champion Ryota Murata.
The unbeaten Irishman has been linked with a Las Vegas fight against Murata, with a potential date of October 20, although the bout has been thrown into doubt after the WBA ordered the Japanese champion to make a title defence against Rob Brant, or risk being stripped of his belt.
Quigley is awaiting news on his next opponent, but would relish the chance to test himself at the top level after extending his unbeaten record to 14 wins with a stoppage of Daniel Rosario Cruz in March.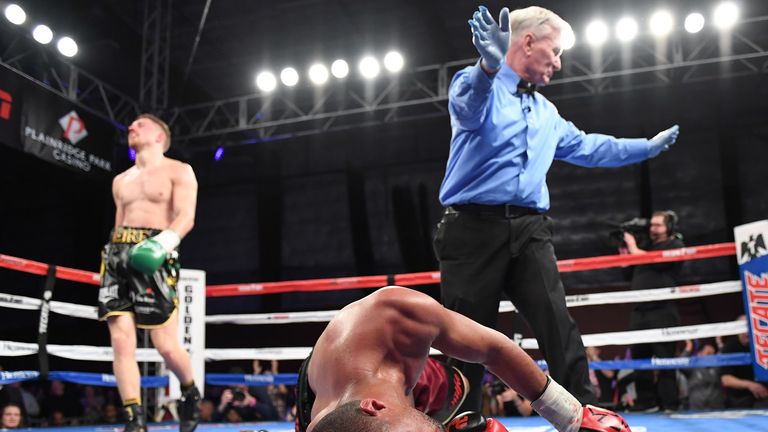 "I hope to return to the ring very shortly," Quigley told Sky Sports. "I have been keeping myself in great shape, I've been staying ready. There's been fights being talked about constantly.
"As I've always said, I'm ready for whoever, whenever, once the deal happens."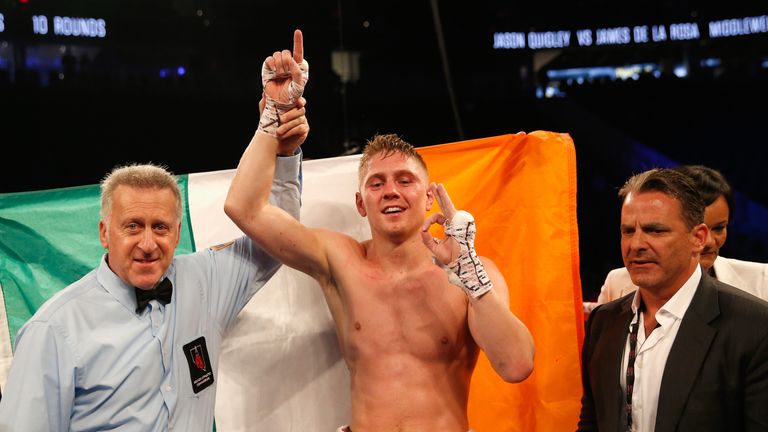 I want to get up to the top level and I want to fight the best in the world, and I'm ready to do everything.
Jason Quigley
"Yes, 100 per cent," said Quigley, when asked if he can make the step-up for a world title fight. "I had a good fight in Boston and I'm looking to keep climbing that ladder and fighting at world-class level.
"I want to get up to the top level and I want to fight the best in the world, and I'm ready to do everything."
An Irish fighter toppled a Japanese world champion earlier this week as TJ Doheny took the IBF super-bantamweight title from Ryosuke Iwasa, and Quigley was quick to pass on his congratulations.
"TJ went into Japan against a Japanese home fighter, a reigning world champion, and took him out of there," said the Laghy-born fighter.
"There's not many people that can do that, but when you're Irish you have a far better chance. It was great to see TJ doing that."
As a member of Dominic Ingle's gym, Quigley trains alongside Kell Brook, who is working towards a long-awaited British battle with Amir Khan.
"Kell is looking good, staying fit, staying sharp," said Quigley. "Kell's a very dangerous fighter for anybody. I don't know why anybody would want to fight him, because he is such a dangerous fighter.
"He might not be the world champion at the minute, but I guarantee he still has it in him to become world champion and I would really love to see the fight between him and Amir Khan.
"I think Kell's going to be too slick, too sharp, too strong. I think Kell has Amir beat in every department.
"Khan has very fast hands, but it's not all about speed, it's how you land and when you land. Kell ticks all the boxes and would knock Amir Khan out in the later rounds."
You can hear more of an interview with Jason Quigley on next week's Ringside Toe 2 Toe podcast.