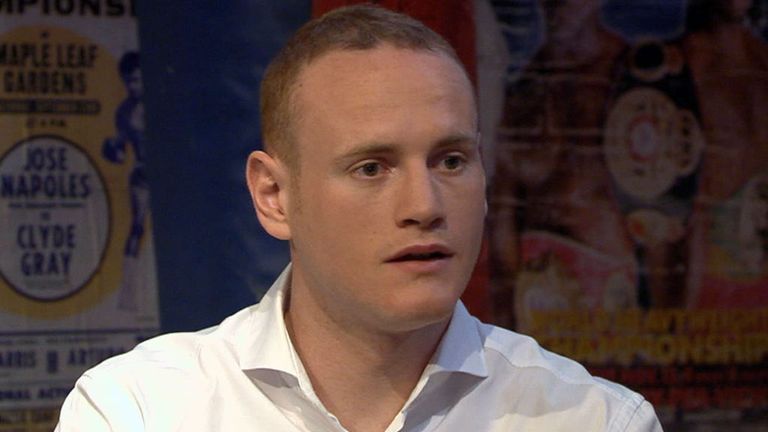 George Groves is determined to begin his recovery from back-to-back defeats to Carl Froch by beating Christopher Rebrasse at Wembley Arena on September 20.
The 26-year-old Londoner challenges the Frenchman for his European super-middleweight belt and is aiming to put the memories of the two stoppage defeats to Froch firmly to the back of his mind as he continues his quest for a world title.
Speaking exclusively to Sky Sports News HQ, Groves said: "It's a step in the right direction. It's a big fight for me - I'm challenging for the European title but just as important for me is that it's a WBC final eliminator so win this fight and I'm back in the mix to challenge for a world title.
"If all goes to plan on September 20, we're back in the picture, challenging for world titles and back where I want to be.
"You learn an awful lot in every fight. Especially a big fight. Fights don't get much bigger than the last fight. You have to learn to deal with the build up, anticipation and excitement and go out there and perform in front of a large audience.
"It's a real test of your soul, your spirit and your minerals to come back to Wembley and box at the 'sister' arena. It's not at the stadium but at Wembley Arena. It's a fantastic arena which I've boxed at before - I successfully defended my British title there.
"I can't wait to be back boxing, more than anything else. I've improved as a fighter throughout the camp and we're looking forward to going out and putting on a great show in a couple of weeks."
When asked whether he had spoken to veteran rival Froch since their last bout in May, Groves added: "I haven't. He blocked me on Twitter before the fight but now he seems to be following me so maybe he wants to be friends. Who knows?
"They're talking about us fighting again next year so if I go about my business how we set out and win this WBC title and he decides he wants to box on, I'd love to have another crack. I've lost two out of two so far but I still think I can beat him.
"I'm an ignorant fighter and think I could beat anyone in the world. I think I was winning both fights before they were stopped and I don't think the first fight should have been stopped. I think the second one certainly should have been stopped. It can be the cruellest of sports.
"Next time, I'm sure if we did box, I'd get the result I want. For the time being though, I'm going to concentrate on the task in hand and that's winning in a few weeks time and getting in line to fight Andre Dirrell for the WBC title."