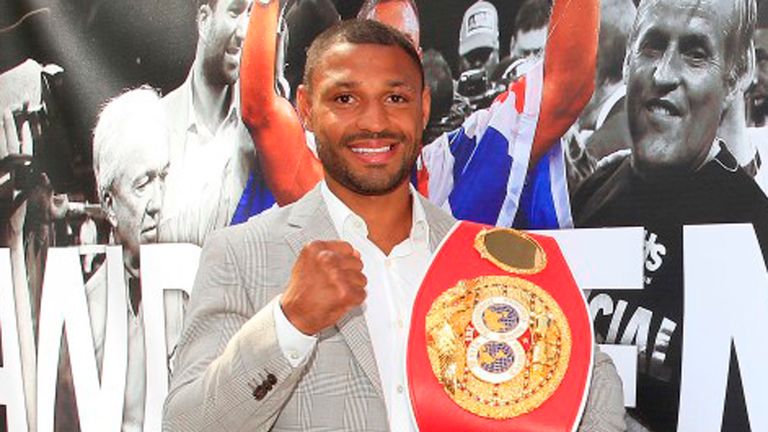 World champion Kell Brook is being treated in hospital after he was stabbed in the leg while on holiday in Tenerife.
The Sheffielder, who beat Shawn Porter on points last month to claim the IBF welterweight title, suffered a stab wound to his leg and a cut arm after an apparent altercation at an apartment complex in the early hours of Thursday morning.
"Kell was stabbed last night in Tenerife," promoter Eddie Hearn told Sky Sports News HQ.
"Obviously our thoughts at the moment are with Kell and hopefully by the sound of things he is in a stable condition and hopefully he's on the mend."
Police are investigating the incident and it remains to be seen whether the injuries will force the 28-year-old, who had been on holiday with his pregnant wife, to postpone plans for a first title defence in December.
A spokeswoman for Spain's Guardia Civil had earlier said: "This morning a 28-year-old British man was stabbed at Golf del Sur in San Miguel de Abona.
"He was stabbed in the left leg and is hospitalized. He lost a lot of blood.
"There are no arrests at this time and the Guardia Civil are investigating."
Extremely distressing
Before confirmation came from Hearn, reporter Fraser Dainton had told Sky Sports News HQ: "Kell Brook, as I understand it is in hospital, although I'm told the injuries are not serious, certainly not life threatening. As I'm sure you can imagine, this must have been extremely distressing and upsetting for everybody involved.
"Obviously we wish Kell all the best in terms of his recovery.   
"He's not long since returned to the UK, having won the welterweight world title. His face was all over the world after going to America and upsetting the odds to bring that belt back to Britain.
"He was looking forward to a nice, quiet, relaxing time over in Tenerife with his family, but obviously this has put a shadow on things at the moment.
"The details are fairly sketchy, but the good news is that it looks like the injuries, from what we're told, are not too serious."
Trainer and Sky Sports pundit Jamie Moore is himself recovering after he was shot in the thigh and hip in Marbella.
He spent a number of days in a Spanish hospital before returning to England and wished Brook a speedy recovery.
"It's shocking to be honest. Obviously there is no real information about what happened and why, but I hope it's not too serious. Let's hope for a fast recovery," said Moore, who was attacked after heading to Spain for a training camp with middleweight Matthew Macklin.
"It's a bit scary to be honest. I was in hospital for eight days in Spain and they looked after me brilliantly, but there is the language barrier, so it can be a bit intimidating. I just hope he's okay."