Michael Sweeney has vowed to beat Ian Tims in Dublin later this month
Last Updated: 04/11/14 12:21pm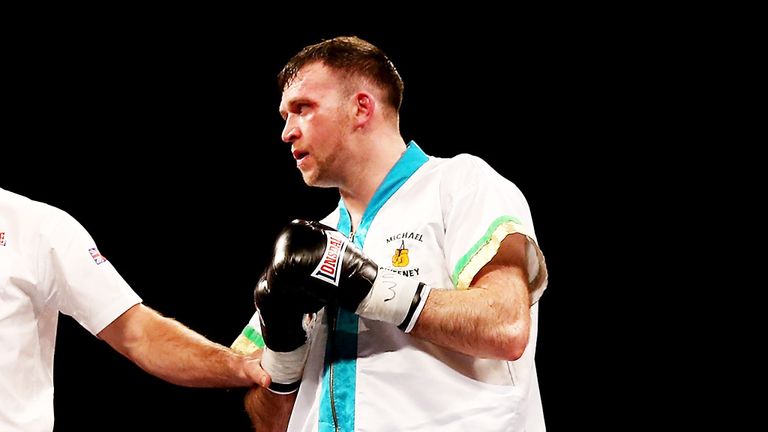 Michael Sweeney says he will retire from boxing if he fails to beat Ian Tims in their Cruiserweight rematch at The 3Arena in Dublin on November 15, live on Sky Sports.
The duo met for the Irish title in March 2011 and Tims triumphed 97-95 to claim the vacant belt.
Sweeney has been hungry for revenge ever since that day and 'The Storm' is adamant that the result will be different this time.
"I will retire if I don't beat him," said Sweeney. "But I am winning this fight.
"It's a winnable fight and I have to win. There's been tension between us since 2011 and there's only one way to settle it.
"It'll be completely different this time around, I am a completely different fighter now. I was terrible against him and I admit that."
Sweeney last boxed in May 2013 against Scot Stephen Simmons and he retired prior to the start of the fourth round, having been knocked down in the first.
However, the 31-year-old has since teamed up with Peter Fury in Manchester and thinks an improved performance is imminent.
"Stephen is a great fighter but I have improved so much since then," said Sweeney.
"There were a lot of issues outside the ring and I didn't train. Now, I have been on the weight for a while, and everything is great.
"Peter and I have been friends for a few years. They are great guys in the gym and they are very serious in what they do in there. It's fabulous for sparring in that area too."
Sweeney's rematch with Tims is part of a great Dublin line-up, which will be topped by Matthew Macklin's WBC International Middleweight title challenge and World title eliminator clash with Jorge Sebastian Heiland.