Eddie Hearn says he can fill Wembley Stadium with Amir Khan v Kell Brook
Last Updated: 12/12/14 9:30am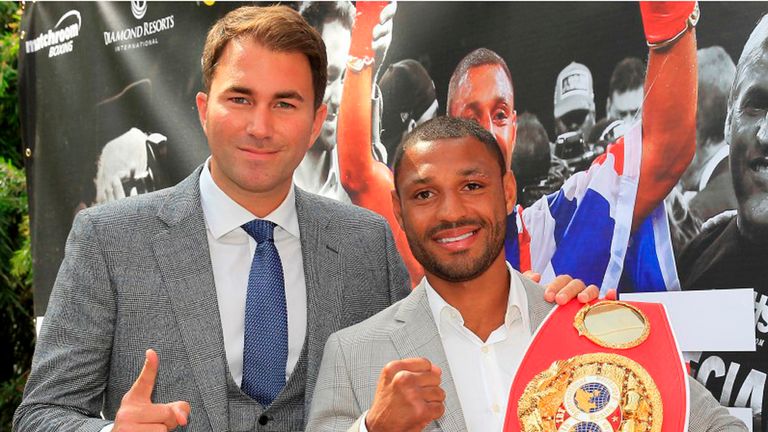 Amir Khan may be hoping to land a shot at Floyd Mayweather next year, but Eddie Hearn says he can fill Wembley if the Bolton man opts to fight Kell Brook.
Khan takes on Devon Alexander in Las Vegas this weekend. The American is a man Brook was supposed to fight for a world title three times, only for both men to withdraw with injuries.
Alexander lost to Shawn Porter, who Brook then beat in August, but Saturday night's winner could be in a line to face unbeaten Mayweather next year.
Khan has made no secret of the fact that he desperately wants to fight Mayweather. The American has so far found it easy to resist that fight, but a show-stopping display from Khan in Vegas on Saturday night could change that.
Hearn, though, says a sell-out at Wembley next summer is the way to go. There is animosity between Khan and Brook dating back years and, although Sheffield man Brook has a lower world profile, he does have a title.
'Everyone wants to see it'
"I want to see Amir Khan against Kell Brook," Hearn told Sky Sports News HQ. "Amir Khan is quoted this week saying, 'On my terms, on this and on that', I don't care whose terms it's on, let's just get it made.
"Everyone wants to see it; it's a wonderful fight. Amir Khan is a bigger name than Kell Brook; Kell Brook is a champion of the world.
"It's very simple: Wembley Stadium, 80,000 in the summer for the IBF welterweight champion of the world. Talk about grudge matches. Amir has got to get past Devon Alexander first and I think he'll do that with style."
Both Khan and Alexander fronted up at a final press conference on Thursday and Khan spoke of achieving a dream by being there.
"My dream was always to fight in Vegas and I'm headlining; this is a dream come true," he said. "I want to thank my trainers for working me hard. I have been pushing myself hard. I've had some great sparring and we are coming to fight and win.
Stoppage aim
"No more setbacks. I have lost in the past but have come back stronger. I am looking forward with no excuses and want to make a statement. I really believe I can get a stoppage in this fight. I'm not going to go looking for it, but I believe I can do it."
Looking ahead to 2015, Khan added: "I want to get past this fight in good style and light up Vegas. Win this fight, then go on to bigger and better things. But my whole focus is on this fight. Then we'll see where that takes me."
Alexander says he is ready to give the UK fans what he believes they want: a knockout of Khan.
"I want to thank Amir Khan for taking the challenge, taking a legitimate challenge," he said. "I don't know what it is about Khan but a lot of the UK fans want to see me beat him, so I don't know what's going on over there. I'm ready to do 15 rounds if I have to."
Watch Amir Khan v Devon Alexander, live on Sky Sports 1 at 2.00am on Sunday, December 14.