Bernard Hopkins turns 50 this week – here are his defining moments in the ring
27 years of world title fights
By James Dielhenn
Last Updated: 15/01/15 4:39pm
Among the elite of in-ring greats, Bernard Hopkins stands in a realm of his own on account of his longevity.
The likes of Muhammad Ali and Mike Tyson may occupy their own space in boxing history but Hopkins, year after year and decade after decade, has contested several world championships in a 27-year career that may continue into his 50s.
The American celebrates his half-century this week so here's a reminder of some of his defining fights.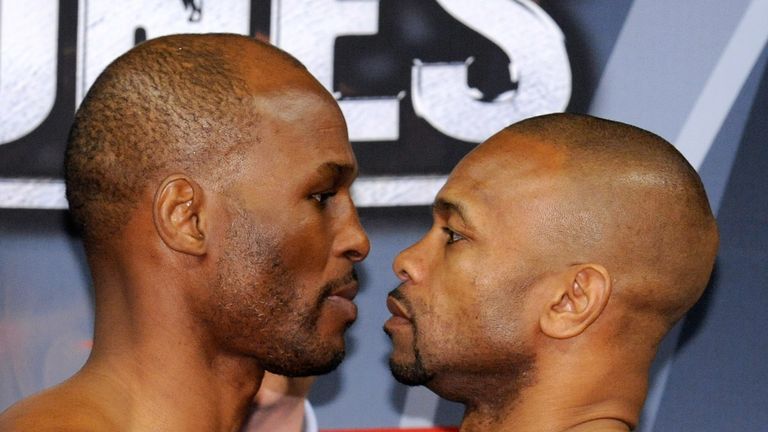 Lost to Roy Jones Jr, May 1993, unanimous decision
Like many of Hopkins' unique achievements stretching across his generation-spanning career, his first fight with Roy Jones Jr may have only received the recognition it deserved in hindsight.
Jones, feted at the time and for years to come as an all-time great, was undefeated and edged a closely-fought battle to win a unanimous decision and take home the vacant IBF middleweight strap. Hopkins, experiencing a world championship bout for the first time, left nobody in any doubt it was a stage on which he was more than comfortable.
Hopkins, 28 at the time, had been incarcerated while Jones honed his craft at the Olympics but their original battle is now regarded as tapestry in boxing folklore. Hopkins wouldn't lose for another 13 years, and would avenge this defeat 17 years down the line.
Defeated Felix Trinidad, September 2001, TKO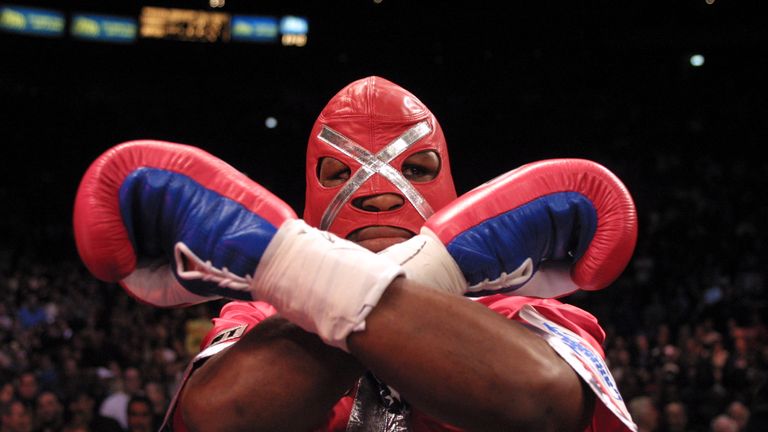 Tale of the Tape
DoB: 15/01/1965
Height: 6'1''
Reach: 75''
From: Philadelphia, Pennsylvania, USA
Record: 55-7-2 (32 KOs)
Nickname: B-Hop, The Executioner & The Alien
Trinidad, prior to a downward spiral that began with defeat to Hopkins, was considered a pound-for-pound stand-out – a violent puncher with the Latin American background of so many great pugilists before him.
Displaying a showmanship that occasionally and intentionally erred across the line of decency, Hopkins' pre-fight conduct was Muhammad Ali-esque. Insulting the Puerto Rican flag of his opponent, he instigated a press conference riot in San Juan and wound up Trinidad to his eventual detriment.
A masked Hopkins arrived in the ring having bet $100,000 on himself yet Trinidad and his unrelenting fists had never tasted defeat. A 36-year-old Hopkins, considered ageing at the time, meticulously became the first undisputed middleweight champion since Marvin Hagler and his upset victory set a precedent for the next decade.
Defeated Oscar De La Hoya, September 2004, KO
While the swinging of leathered gloves inside the ropes may not have been Hopkins' most taxing challenge, his bout against Oscar De La Hoya became an event enveloped by the Las Vegas showbiz – one of those rare and special boxing nights with names in lights and the casinos bustling.
Hopkins, aged 39, handed a fading De La Hoya his only career stoppage loss with a body shot – it remains Hopkins' most recent knockout. But the fight's grandeur and its transcendence to the mainstream ensured its importance – it was among the most lucrative non-heavyweight contests of all time, and accusations were rife that De La Hoya received favourable judging in his previous fight to set up this money-spinner.
Hopkins banked $10million to his flattened opponent's $30million and his decade-long run as middleweight champion continued.
Lost twice to Jermain Taylor, July and Dec 2005, split & unanimous decisions
World Championships
IBF middleweight
WBC middleweight
WBA super world middleweight
The Ring middleweight
WBO middleweight
The Ring light-heavyweight
WBC light-heavyweight
IBF light-heavyweight
WBA super light-heavyweight
A month shy of his 41st birthday, having been defeated not once but twice by an undefeated puzzle that even the dirtiest tricks couldn't undermine, Hopkins' career finally looked done and dusted.
Although he complained about judging – both fights were decided by the odd punch here or a stolen round there – Hopkins was left in a seemingly unresolvable corner with the loneliness of retirement his only future opponent.
After a record 20 middleweight title defences, Hopkins lost a split decision to Taylor. Canny with his hands yet crafty with elbows and forehead, Hopkins opened a dramatic split to Taylor's head.
The long-time titleholder refused to accept Taylor's superiority leading to a spiteful rematch five months later. Hopkins, like Sugar Ray Leonard before him, planned to retire by snatching back his titles but Taylor eked out another victory.
It was these defeats that spurred Hopkins into a remarkable resurgence and a reinvention in his fifth decade.
Beat Jean Pascal, May 2011, unanimous decision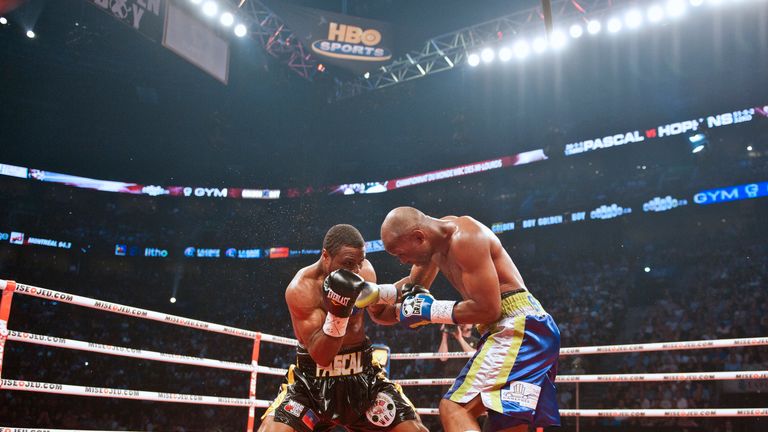 Hopkins became the oldest major champion in boxing history when, aged 46, he outlasted Jean Pascal in Montreal to take his WBC light-heavyweight title, completing one of sport's greatest resurgences.
His remodelling two weight divisions above his middleweight home deep into his 40s relied heavily upon displaying every nuanced movement and illusive ruse picked up throughout his boxing education. He was the matador to Pascal's bull – leading the Canadian down dead ends in his own hometown and stealing his championship with the subtlety of back-street pickpocket.
Their first fight in Quebec, ruled a draw five months prior, saw Hopkins overcome two knockdowns to almost secure history. His rematch victory was far more elaborate – he taunted Pascal, 18 years his junior, by sticking out his tongue and doing push-ups between rounds. The angrier Pascal became, the easier it became for the wily veteran to pinch his gold.
Hopkins supplanted the legendary George Foreman as boxing's oldest champion – a title that, among everything else, defines his career.