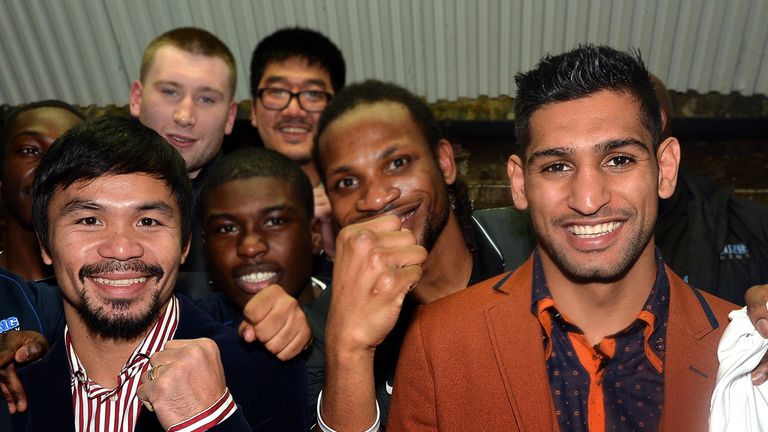 Manny Pacquiao has told Sky Sports News HQ he thinks his next fight will be against Floyd Mayweather Jr.
The two biggest stars in boxing have been unable to finalise a clash in recent years, amid rows over television network deals and blood tests.
Despite talk this month of a bout between the welterweight superstars in the first week of May edging closer, nothing has yet been confirmed.
But speaking to reporter Roger Clarke at London's famous Fitzroy Lodge boxing club on Friday, seven-weight world champion Pacquiao revealed he is expecting an imminent decision from Mayweather about the proposed contest.
"We're waiting for an answer from them, and the signed contract from them, so probably by next week we'll know if we can push the fight through or not," Pacquiao said.
When asked if he thinks the fight will happen the Filipino said: "I think so, I think the fans deserve this fight."
Asked if he thought undefeated Mayweather is scared of him, Pacquiao said: "I think so. I don't want to think about that but it's kind of like that."
The Freddie Roach-trained Filipino was at Fitzroy Lodge with heavyweight sensation Anthony Joshua and former Wildcard Gym stablemate Amir Khan, who also retains hope of fighting Mayweather.
"I'm here in London because I have a couple of things to work on," Pacquiao added. "Maybe I'll look to bring a fight here to London."
That fight could be against Khan should Mayweather continue to elude the welterweight pair who have sparred with each other on numerous occasions in the past.
Respect
"Yes that's a big possibility," Pacquiao said when questioned on whether he could potentially face the Bolton fighter.
"It will be nothing personal and we'll just do our job in the ring. We are friends. It's not difficult for us because we respect each other."
Khan, who also talked up an all-British clash against Kell Brook when he appeared on Ringside on Thursday, added: "This shows the possibility of a fight happening between me and Manny Pacquiao. Everyone in London loves Manny Pacquiao and everyone in England and London loves Amir Khan, so why don't they make a huge fight here in Wembley Stadium. It's definitely one fight that we can sell out.
"We are both holding on for Floyd Mayweather and we are both probably in the same position. But to be honest, it is very likely that the fight could happen and Manny's team have mentioned today that they want the fight.
"My team have been saying that we would like the fight as well, so we are going to have a meeting later on tonight with Manny's team and hopefully we can get things solved.
"I think there is a very high percentage that the fight could happen. Obviously I have been chasing the Mayweather fight for some time and if Mayweather doesn't want it then I think we have to go for the other pound-for-pound champion, the other top names in boxing and I think Manny is one of them."
Find out more from Manny Pacquiao in an hour-long special next week on Sky Sports when he tells us all about his life out of the ring and of course, his stunning career... @SkySportsBoxing #Ringside