Manny Pacquiao is 80 per cent certain Floyd Mayweather will fight him on May 2
But Pac Man warns it's now or never
Last Updated: 27/01/15 2:49pm
Manny Pacquiao is almost certain his showdown with Floyd Mayweather will happen this spring - but warned of the consequences if it doesn't.
Pacquiao's advisors claim to have agreed to fight Mayweather in Las Vegas on May 2 having accepted the terms and conditions laid out by the American.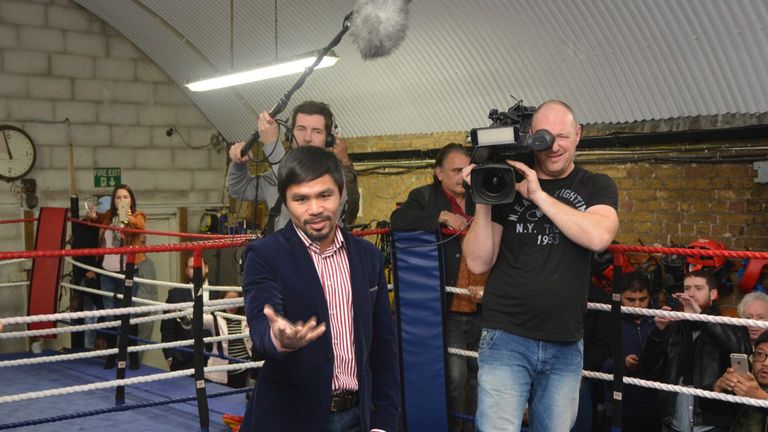 If this doesn't happen now I don't think it will, so now is the time.
Pacquiao on Mayweather
Mayweather's team, amid talk of a rematch with Miguel Cotto, insist there is no contract drawn up but are expected to make an announcement this weekend on Super Bowl Sunday.
And Pacquiao - who claims he will gladly accept a smaller percentage of the purse to force the fight through - hinted it was now or never for potentially the richest fight in boxing history.
"I think it will happen, I believe that," he told Ringside Special, which you can see at 10.15pm on Wednesday January 28 on Sky Sports 1.
"If this doesn't happen now I don't think it will, so now is the time.
"If you ask me what the percentage is, it's 80-20 [that it will happen].
"I think he's got pressure. He's got no alibi - blood testing is no longer a problem, Bob Arum the promoter is no longer a problem, now there are no more problems.
"The fans are pressuring him. I tell them we have agreed everything, the rules and regulations are not a problem.
"And if you want it higher, I am happy with that. I will take 40 [per cent of the purse] to 60. I'm OK with that - for the sake of the fans.
"We are just waiting for you to sign the contract."
Pacquiao and Mayweather were on course to fight as far back as 2011 before the issue of blood testing came between them, when Mayweather claimed that while he was happy to be tested randomly, his rival was not.
But with Pacquiao now adamant it will not get in the way of a massive showdown, the Filipino believes his rival's legacy will be damaged if they do not square up in the ring.
"If he doesn't want to fight in his boxing career it is bad for him," he said. "But if he wants to fight, that is the best thing he can do."
Find out more from Manny Pacquiao in an hour-long special at 10.15pm, Wednesday, Sky Sports 1, when he tells us all about his life out of the ring and of course, his stunning career... @SkySportsBoxing #Ringside