David Price eyes up fights with Anthony Joshua and Tyson Fury after Irineu Costa Jnr
Last Updated: 05/02/15 7:32pm
David Price insists his fight against Irineu Costa Jnr is the first step on the road to a world title in the middle of next year.
Price is keen to shine on the Paul Smith undercard in Berlin on February 21 before turning his attention to huge domestic battles with Anthony Joshua and Tyson Fury.
The 31-year-old has been out of the ring for almost nine months, suffering various injuries but has said his time away has not been wasted.
Speaking to Sky Sports News HQ, he said: "It has been a frustrating time for me, because I got my career back on track, with three wins in the early part of last year.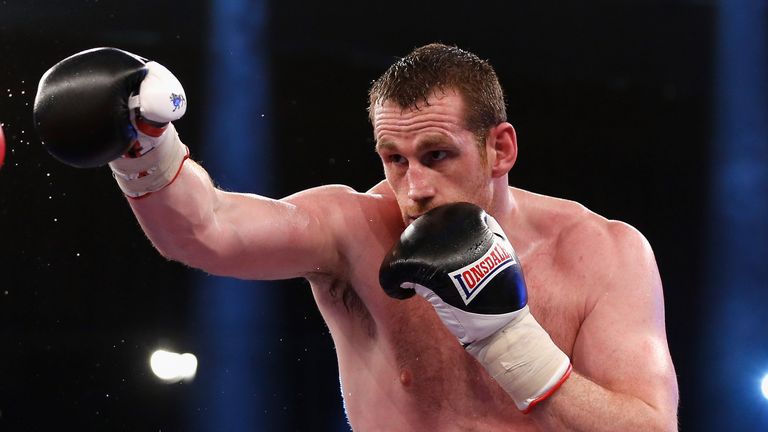 The good thing is Anthony Joshua is an Olympic gold medallist and I am an Olympic medallist and that fight sells itself.
David Price
"In the second half of the year it was a little bit different, I picked up a hand injury which I had to be operated on, got that sorted, after that I picked up a bicep injury, a week before the scheduled fight in December.
"It has been a little bit frustrating, but it has been a time where I have had a lot of time to develop in the gym and also on the mental side of things as well.
"I want an opponent who can bring something out of me and Costa Jnr fits into that bracket. He has got dangerous punch power and has a similar record to myself."
Price is not looking too far ahead but if he overcomes Costa Jnr he is already hoping to secure high-profile bouts, and a world title shot, in the near future.
'Concentrating'
"My promoters Sauerland are going to get me where I want to be, which is a shot at the world title," he said. "It might not be this year but I can see it happening next year, realistically the middle of next year. All I need to do is keep winning, keep improving and keep concentrating on what I am doing in the gym."
British boxing has had several high-profile domestic contests in the last year, with Froch and Groves taking centre stage, and Price is hoping he can be involved on bills of a similar calibire.
A bout with Fury is one he hopes to agree at some point, but first up he wants to take on Joshua.
"Yeah, definitely. It is a fight that has been mentioned," he added. "He is looking the part, he is doing everything right.
"The good thing is he is an Olympic gold medallist and I am an Olympic medallist and that fight sells itself. Two big punchers. He is 6ft 6 and I am 6ft 8. It has got the recipe for a brilliant fight and it's a fight that I would love to be involved in.
"Tyson Fury is still a fight I would love to have, if he can't negotiate a Klitschko fight and he is wanting to have another big domestic fight, he needs to look no further than myself, because by the time that comes around I would be five wins on the trot and back in the groove. The history between us and everything else, it is a big fight. That a target for me."
Meanwhile, looking ahead to Saturday Night Football, Price insists that Liverpool will continue their good form against Everton.
"It's on the day what is going to happen," he said. "The atmosphere is going to be red hot, but I think the way Liverpool are playing at the moment and the formation Brendan Rodgers has got and the way he has got the team playing not many teams have been able to figure it out. I can see Liverpool coming out on top with a 2-0 victory."
Watch Price take on Costa Jnr on the undercard of the Paul Smith-Arthur Abraham rematch in Berlin, live on Sky Sports 3 on Saturday, February 21