Josh Warrington is excited for his return to Leeds after winning in Germany
By Simon Crawford
Last Updated: 27/02/15 11:17am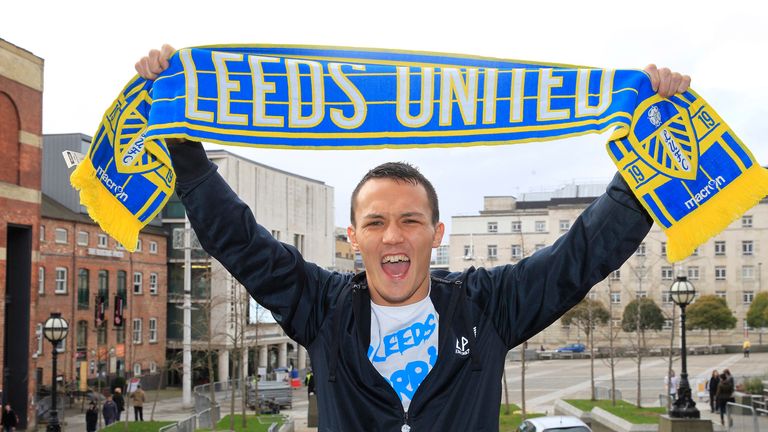 Josh Warrington can't wait to return to the ring in his hometown after winning in Berlin last weekend.
I'm looking forward to walking out to a full house - it's going to be some noise! Leeds Arena and a Leeds lad selling it out - you can't get better than that.
Josh Warrington
The 24-year-old turned in an impressive performance to stop an outclassed Edwin Tellez in five rounds in Berlin last Saturday night, on the undercard of Paul Smith's world-title challenge against Arthur Abraham.
Around 500 fans travelled to Germany to watch him in his first fight outside the UK as a pro, but 10,000 are expected at the Leeds Arena on April 11 when he tackles Dennis Tubieron of the Philippines for the vacant WBC International featherweight strap, which will also double up as a world-title eliminator.
After a sensational 2014 which saw the dental technician pick up the British, Commonwealth and European belts, Warrington and his army of fans are hoping 2015 can be just as successful.
"I'm certainly hoping this roller-coaster ride can continue," Warrington told Sky Sports.
"I want to keep that momentum going. Berlin was a blast and April 11 is going to be incredible with the amount of people going. Hopefully it will be another belt to add to the collection and fingers crossed the ride won't stop until I get a world title. I'm within touching distance now so why can't I go on and win it?
"I can't wait to get in there now on April 11 - I'm really excited about the night and the occasion. I'm looking forward to walking out to a full house - it's going to be some noise! Leeds Arena and a Leeds lad selling it out - you can't get better than that. There's nothing better than fighting in-front of your own fans in your own city."
Experience
Warrington took his record 20-0 by beating Tellez, courtesy of his fourth stoppage win in his last five fights and he admits it was a boost to get rid of some ring rust after having not fought since beating Davide Dieli for the European title back in October.
"It was good to get some rounds in out there. Boxing in a new country was a good experience and on such a big stage as the Germans really love their boxing," he said.
"It was a nice way to ease back in after having some time off over Christmas, although I have been busy renovating my new house. That's been taking up quite a bit of time so it was good to get back in the ring again.
"And another stoppage win for all the doubters - old feather-fists has done it again! I'd been working on a lot of things - shots up the side, better shot selection but I just wanted to get the fight out of the way. I tried a few things in the early rounds but to be honest I didn't really get out of second gear.
"I'd like to say a massive thank you to everyone who went over to German to support me - they were brilliant.
"I felt like I was in a shopping centre in Leeds, never mind Berlin for the weigh-in and then all the way through the fight they were unbelievable and never stopped making noise."
Busy
Warrington faces a tough test against 25-year-old southpaw Tubieron (19-3-2 8KOs), who will be fighting in Europe for the first time in his career.
"There's not much footage of him about but I know he throws a lot of punches and he's really busy. But I throw a lot of punches too so if he wants to work for 12 rounds then I will work for 12 rounds," said the Leeds fighter.
"It's been word of mouth really - but you could study a boxer for months and months and then come the night of the fight he could be completely different. You have to be able to adapt anyway at this level so I'll be having southpaw sparring with people who are similar to him.
"Southpaws hold no fears for me. The first couple of times you might make a mistake or two against them but you just have to focus because at the end of the day they are just fighters with two arms and two legs like me."