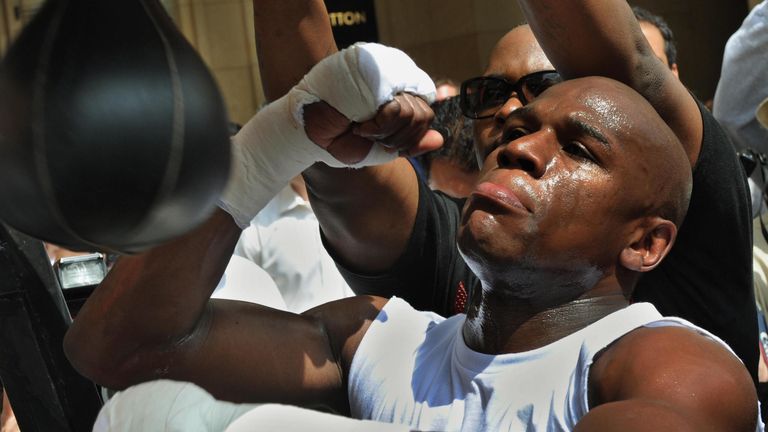 Floyd Mayweather is not concerned about Manny Pacquiao's training or the trash talking from his rival's camp, according to the American's promoter.
Leonard Ellerbe, CEO of Mayweather Promotions, claims his man is not paying attention to promoter Bob Arum's criticism of his physical condition.
Pacquiao's trainer Freddie Roach has also been vocal, calling Mayweather's father Floyd Sr "a terrible cornerman", but Ellerbe says his unbeaten fighter will do his talking in the ring on May 2, live on Sky Sports Box Office.
"It doesn't matter what Bob says, Freddie Roach says, Floyd can dictate what will happen in the fight and can silence all of their talk," Ellerbe told Sky Sports News HQ. "We couldn't care less what goes on in their camp and how Manny is training.
"Manny Pacquiao is facing the biggest challenge he has ever faced. Manny has never seen anything like a Floyd Mayweather. Manny personally knows what he's up against, Bob and Freddie can talk all they want to."
Ellerbe added the American has stepped up his training camp with the quality of sparring partners.
"He has some very good young sparring partners who are really pushing him," he said.
"That has been the difference in the preparation, he's going to very prepared for May 2 to put on a great show for his UK fans."
Mayweather v Pacquiao is live on Sky Sports Box Office and the cost of the event will be £19.95 / €24.95 across all forms of booking, up until midnight Friday, May 1. From then on the cost will still be £19.95 / €24.95 if bookings are made via remote control and online, but will cost £24.95 / €29.95 if booked via the phone.
Please note an additional £2 booking fee still applies if bookings are made via a telephone agent. Cable customers please contact your operator for booking information.