Jon-Lewis Dickinson stopped Stephen Simmons in eight rounds in Newcastle
Last Updated: 05/04/15 12:18am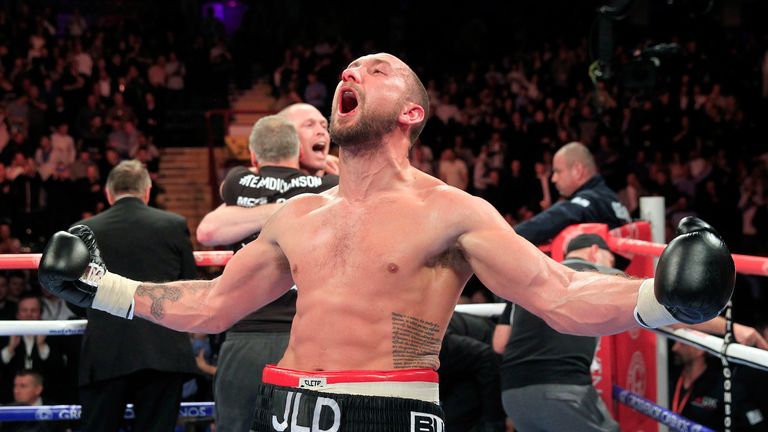 Jon-Lewis Dickinson delighted the locals at the Metro Radio Arena in Newcastle with a classy win over Stephen Simmons.
The cruiserweight from Birtley stopped the Scot in the eighth round of an entertaining scrap that saw the home hero win the WBC international silver title and bounce back after two staight losses.
Dickinson ended the fight with a clinical finish and admitted that had he not got past Simmons, it could well have ended his career.
"It was do or die," he told Sky Sports at ringside.
"Obviously we knew he was a strong lad and he'd come forward and try and blast me out of there and if you look at my last two performances, he probably had a good chance.
"[Ovill] McKenzie took me out early and I was all over the place against Courtney Fry and I had problems. But we have got rid of those problems and I am a 100 per cent."
Dickinson was rarely in trouble this time, although with Simmons shutting down the gap and landing several single shots, he had to remain at range and avoid being dragged into a brawl.
Dickinson came to the fore in the seventh round as he landed clean counters and ended the round clearly on top and closing in on a vital win. 
He then smashed a straight right home at the start of the eighth and that was the beginning of the end for Simmons, another right and a big left sending him to the floor and although he made it back up, his balance had gone, leaving referee Ian-John Lewis to call it to a halt.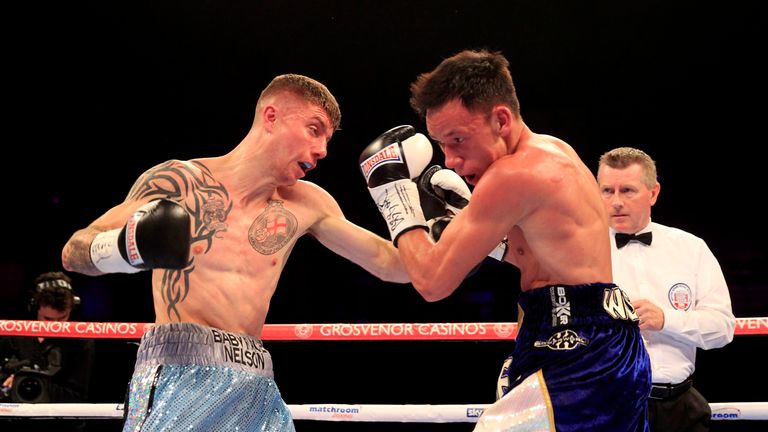 Anthony Nelson was crowned the new Commonwealth super-flyweight champion in the last fight of the night.
Babyface took the vacant title with a fierce and fiery scrap with Jamie Wilson, who was retired by his team at the end of the sixth round, leaving the South Shields star the title holder after only 10 fights.
However, it was not such good news for Travis Dickinson, Jon-Lewis' brother, as he was stopped in the first round by Spain's Mustafa Chadlioui who was having only his seventh fight.
The Newcasle night was robbed of the injured Bradley Saunders but his younger brother Jeff marked his pro debut with a first-round knockout of Sandor Racz.
Elsewhere on the card, Liverpool's Stephen Smith (22-1-KO12) kept ticking over by out-pointing Barrington Brown over six rounds, the same result that saw Middlesbrough cruiserweight Simon Vallily (7-0-KO1) beat Wlodzimierz Letr.
Other local lads Hosea Burton, Lewis Ritson and Jordan King gave the Metro Arena plenty to cheer about as they all won.