Ricky Hatton believes Floyd Mayweather will narrowly beat Manny Pacquiao in "one of the biggest fights in the history of the sport."
The two best fighters of their generation go toe-to-toe in a mouth-watering clash at the MGM Grand, Las Vegas, on May 2, live on Sky Sports Box Office.
Hatton was beaten by Mayweather in 2007 before losing to Pacquiao 18 months later, and the 'Hitman' is convinced Mayweather will edge the super-fight but acknowledges Pacquiao has the right attributes to win.
"I was very fortunate to spend 10 rounds in the ring with Floyd Mayweather and I was able to witness just how good he was," Hatton told Sky Sports News HQ.
"I can moan about the referee or this that or the other but when I came out of those changing rooms and I sat down, I thought to myself 'wow that fella is good', so I would give the edge to Mayweather.
"I think Manny has all the tools in order to beat him. He's a southpaw which makes it a little bit awkward. He's got fast feet and fast hands and is probably someone who can match Mayweather for speed.
"I think if he can match Mayweather for speed and get in and out like he did against Oscar De La Hoya – straight punches rather than hooks, which Manny is very good at – I think he's got a great chance.
"But my gut feeling is that Mayweather will adapt his style like he always does and probably beat Manny on points."
Mayweather inflicted the first loss of Hatton's 48-fight career and the Mancunian says the WBC and WBA welterweight champion is an expert in the art of psychological warfare.
"It's not necessarily what he does, it's what he says," Hatton said. "He's in your face, he's always in your ear but Manny seems to be a very chilled character.
'Underdog'
"But Floyd doesn't seem to be doing much bad-mouthing for whatever reason. I think Floyd said that the fight doesn't need much selling which is a good point, but Floyd usually likes to do it in order to get under his opponent's skin.
"Maybe's he's nervous about the fight because there's so much on the line but he's not doing much talking."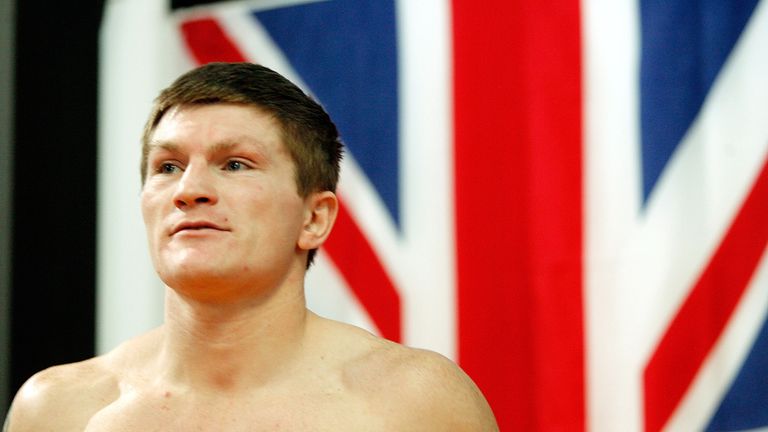 But my gut feeling is that Mayweather will adapt his style like he always does and probably beat Manny on points.
Ricky Hatton
Mayweather is favourite to extend his winning record to 48 on May 2 and Hatton believes Pacquiao will be delighted that the burden of expectation will be on his opponent.
"Manny will relish going there as the underdog," he said. "He lost very heavily to Juan Manuel Marquez and he had a mediocre fight with Timothy Bradley, so he'll relish the fact that the pressure is all on Floyd's shoulders.
"Floyd has got an unbeaten record. He's going to want to keep it so the pressure is all on Floyd and Manny will like that.
"Everyone is expecting Floyd to win, everyone is picking Floyd Mayweather and Manny will relish being the underdog for a change."
Book Mayweather v Pacquiao, Sky Sports Box Office, May 2, via your phone or online now. If you want to record the event, book via your Sky remote from April 25. skysports.com/maypac