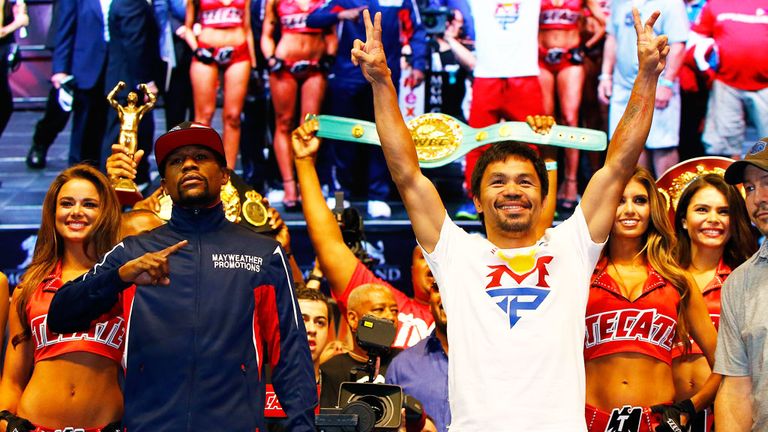 After seemingly endless months of waiting, feverish build-up, and breathless anticipation throughout the world, it is finally here.
The event which sports fans have been looking forward to with such excitement is the welterweight showdown between Floyd Mayweather and Manny Pacquiao, which will take place in the early hours of Sunday morning (UK time) in Las Vegas.
The bout will be live on Sky Sports Box Office and, as well as the richest in history, it may just go down as the greatest fight of all-time.
These two boxing legends have long been considered the greatest pound-for-pound fighters in the world and who might triumph were they ever to lock horns is a subject which has fuelled countless conversations and column inches.
And, just when it seemed like the pair might never meet to settle all the debates, it was announced in February that they were to square off at the MGM Grand on 2 May.
A meeting between two such great fighters would be of huge interest under any circumstances but 'styles make fights' say the boxing gurus and the contrasts between this pair mean a classic could be in the offing.
The 38-year-old Mayweather is an unbeaten colossus of the ring, renowned as one of the greatest defensive boxers there has ever been.
He has had 47 fights as a pro, winning them all, and some of the best fighters around have been unable to trouble the man from Michigan.
He is likely to use his incredible reflexes to adopt a counter-attacking approach and his last five victories have all come on points.
The 36-year-old Pacquiao however, is an all-action fighter, who will probably look to attack from the off, and the aggressive southpaw has accrued a string of thrilling victories.
The man from the Phillipines has lost five times and also drawn twice in his 64-fight career but he has been tussling with the very best fighters around for years.
His place in boxing history is assured regardless but becoming the first man to ever defeat Mayweather would be a truly remarkable achievement.
The weigh-in was held on Friday amidst a typical Vegas hullabaloo and in front of a crowd of around 16,000, and Mayweather, who is the naturally bigger man, came in at 146lbs, while Pacquiao weighed 145.
The bookmakers favour a Mayweather points victory and most pundits see him as the most likely winner.
But Pacquiao said on Friday: "I feel confident for tomorrow and I am ready for tomorrow. I think he is a little bit worried because he will face the threat to that 47-0.
"We have a lot of different techniques that we practise in the gym and we are very confident."
Mayweather remarked: "I have dedicated myself to the sport of boxing for over 20 years and I'm ready.
"The timing is right, the timing is now, and we are going to see how everything goes."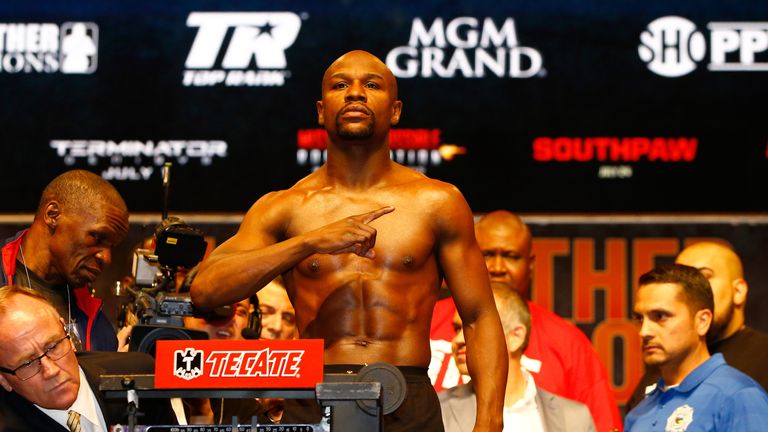 I have dedicated myself to the sport of boxing for over 20 years and I'm ready. The timing is right, the timing is now, and we are going to see how everything goes.
Floyd Mayweather
The 63-year-old veteran ref Kenny Bayliss will be in charge of the fight while all eyes may turn to the judges at the end of 12 rounds, and Burt Clements, Dave Moretti and Glenn Feldman will decide the outcome if neither fighter can secure a knock-out or stoppage.
The glitzy Mayweather (nickname 'Money) will be sporting a $25,000 mouthguard which incorporates gold flakes and diamond dust (we've all got one!), while Pacquiao's more humble offering will feature the blue, gold, red and white colours of the Filipino flag.
But it is Pac-Man who will cause the bigger stir on the walk-ons, the music-loving pugilist having written a pop song which will accompany him into the ring.
It is not often you can definitely guarantee drama in a sporting event but, whether one of the fighters lands a surprise early knock-out or whether the judges have to pick a winner after an evenly-matched 12 rounds, this is one sporting occasion that simply has to be viewed.
So, just one more question. When is it actually going to start?
Because there are other fights on the undercard, there is no definite start time for Mayweather-Pacquiao and it could be as late (early?) as 5am UK time when the pair walk out, if the earlier bouts take longer than expected.
However, the scheduled start time is 4am UK time and so, if you are not one of the hardy souls attending an all-night party, the advice is to book via your Sky remote, set the alarm for 3.45am and then settle down with your beverage of choice to watch one of the most keenly-awaited sporting events there has ever been.
Whether you watch live or treat yourself to a lie-in and catch up with one of the replay showings, we hope you all really enjoy the fight.
Book Mayweather v Pacquiao, Sky Sports Box Office, May 2, via your Sky remote, phone or online now. If you want to record the event, book via your Sky remote. skysports.com/maypac