Manny Pacquiao back home in Philippines to start recovery from surgery
Last Updated: 19/05/15 3:40pm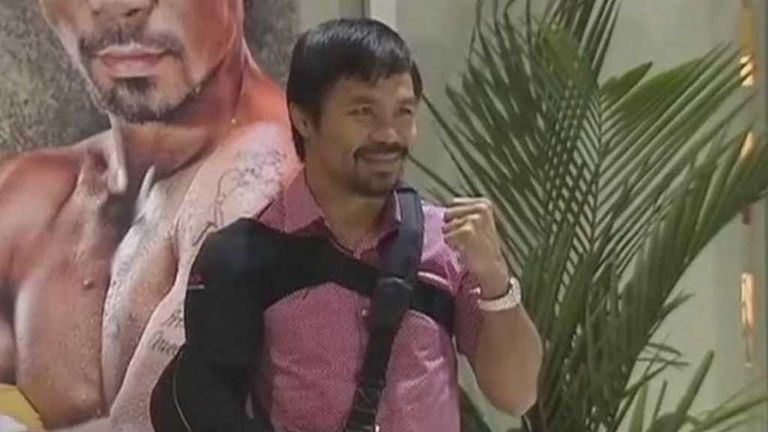 Manny Pacquiao brushed off talk about his future after returning to the Philippines with his injured arm still in a sling.
The 36-year-old was greeted by a large crowd in Manila as he finally made it home more than a week after losing to Floyd Mayweather in the "Fight of the Century" in Las Vegas.
Pacquiao injured his shoulder before that fight and his return was delayed by surgery that will rule him out from fighting for at least nine months.
And it is his recovery that Pacquiao is determined to concentrate on, despite a series of questions about his next fight and a possible rematch with Mayweather, who has since dubbed him as a 'sore loser.'
"For now I don't talk about it, about my next fight," Pacquiao said. "My focus is to recover and be OK. The doctor said I will recover 100 per cent."
Pacquiao was also unwilling to respond to Mayweather's comments about a rematch, in which he also called the Filipino great a coward.
He added: "I don't want to go down to their level."
And it was a similar story when it came to talk about a potential run for the legislature, something Pacquiao has already done on two occasions, as he simply said it was "not in my mind."