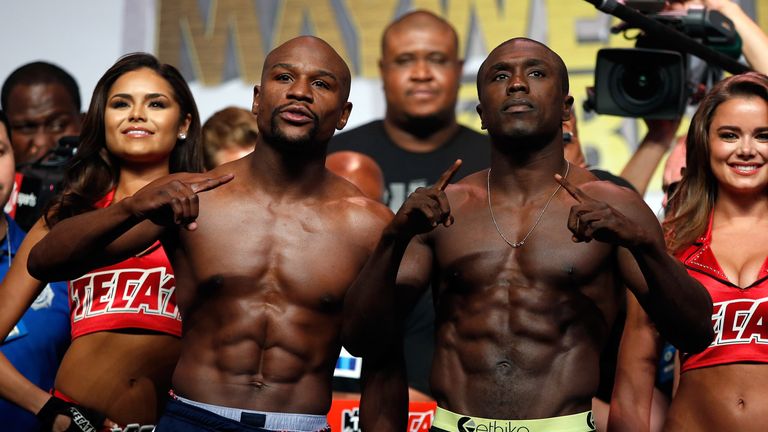 Floyd Mayweather made a snide dig towards former foe Manny Pacquiao on the eve of what he insists will be his final outing as a professional boxer.
Mayweather will put his WBC and WBA welterweight titles on the line against Andre Berto in Las Vegas on Saturday as he brings down the curtain on his pro career.
The 38-year-old is bidding to end his career unbeaten and equal Rocky Marciano's celebrated 49-0 record.
Mayweather has faced criticism for his choice of opponent with Berto, who is a former two-time champion at 147lbs but has lost three of his last six fights and is a massive underdog in the eyes of many.
Mayweather, though, hopes to deliver an exciting fight and seemed to acknowledge his points victory over Pacquiao in May, a bout billed as fight of the century, was an underwhelming affair - although he pointed the finger of blame squarely in the Filipino's direction.
In an on-stage interview after weighing in at 146lbs on Friday night, he said: "I'm in top condition, we had a great training camp, it went tremendous but the main thing tomorrow is going out there, being at my best. Since Pacquiao didn't give the fans a good fight, tomorrow's going to be a great fight."
The build-up to the main event at the MGM Grand has been overshadowed by claims that Mayweather received an intravenous injection just a day before his fight with Pacquiao to rehydrate himself after weighing in, despite doing so being prohibited by the World Anti-Doping Agency (WADA).
The United States Anti-Doping Agency (USADA) confirmed the use of an IV but insisted that because he had been granted a Theraputic Use Exemption, he remained entirely innocent, while Mayweather himself has strongly denied any wrongdoing.
Pacquiao is reportedly eyeing a rematch but when asked whether he would consider the prospect, Mayweather added: "I'm with [US TV Network] Showtime, I'm only focused on Showtime fighters." Pacquiao fights on rival network HBO.
The bout against Berto marks the end of Mayweather's highly lucrative six-fight deal with Showtime, and the five-weight world champion is bidding to go out on a high.
"I don't overlook any opponent but I've been here before, I know what it takes to win a fight of this magnitude," he said. "Just stay focused, stay on a parallel path and go and do what I do best and that's win.
"He's another top guy, he has a high knockout ratio, he's a tough and rugged competitor but I've faced everybody in the sport of boxing. I've faced Pacquiao, I've faced [Miguel] Cotto, I've faced Canelo [Saul Alvarez], I've already faced the best fighters."
Berto, who weighed in at 145lb, two pounds under the welterweight limit, is ignoring the detractors who say he has no chance.
The Haitian-American said: "It doesn't matter, coming from where I come from, we never had a chance to come out of that but just the fact that I'm here, it tells you something. I'm not listening to any of that.
You can follow the Jack-Groves and Mayweather-Berto fights on our live blog in the early hours of Sunday morning at skysports.com/boxing.