Tyson Fury has dismissed the notion becoming world heavyweight champion brings with it a duty to censor himself.
Fury (25-0-KO18) surprised many on Saturday night when he outpointed Wladimir Klitschko to become WBA, WBO and IBF champion.
Fury has courted controversy in the past with his views on social issues but when asked if he planned to tone down his outbursts now he's under increased scrutiny, the 27-year-old offered a typically frank response.
"It's not going to change me. I am what I am," said Fury. "Money, fame and glory doesn't change a man unless he wants it to. That's a fake person in my opinion.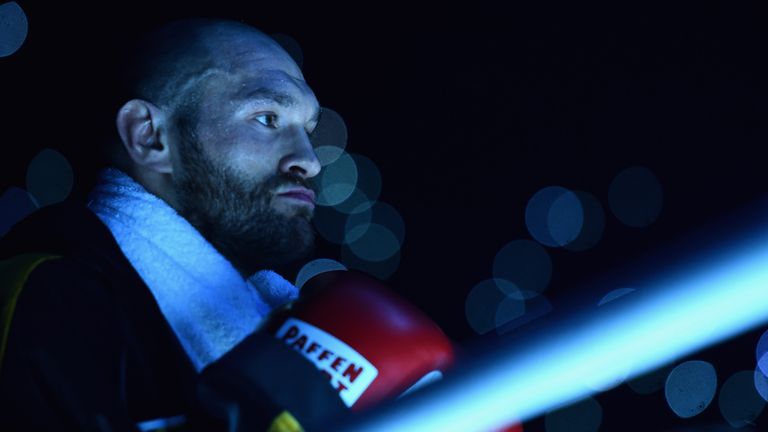 If people don't like it, change the channel. That's all I've got to say. I'll be dictated to by nobody.
Tyson Fury
"Anyone who can be changed by a few quid and some achievements is not a realist. They were unhappy with what they used to be and they needed things like this to make them a happier person. I've won the belts, am the number one heavyweight in the world and I've caused a massive shock but it is what it is.
"I'm a boxer and I was one before I started. I'm still a boxer now. I don't feel different today than I did yesterday, the day before or the day before that. I'm still Tyson Fury and I'm still going to go and get in an old Land Rover in a minute and get to bed.
"If people don't like it, change the channel. That's all I've got to say. I'll be dictated to by nobody. I'm the man and if anybody can come and prove me wrong, their chance is inside a boxing ring.
"You don't like it? Change the station. You don't like it? Don't take photos. You don't like it? Don't print it in your newspaper. Do I care? Not really."
Reflecting on the fight itself, Fury claims he made it impossible for the judges to score the fight against him and also had some harsh words for referee Tony Weeks.
Fury said: "They couldn't rob me. It was too wide. I didn't give him many rounds. I thought I outboxed him nearly all the rounds. He caught me with a couple of punches that could have swayed the judges and he had the referee on his side.
"He headbutted me all night and kept holding me. When did we see the referee warn him about taking a point off? He didn't. I hit him twice around the back of the head and he took a point off me. It could have been crucial but I was too far ahead.
"If you're not landing punches and you're not in the fight, how can they award it to you? I've watched clips back but I'm not really interested. It's in the past. This is the start of a long journey. I'm just thinking about life and enjoying Christmas at the moment."
Since becoming world champion, Fury has already been called out by former WBA champion David Haye and current WBC champion Deontay Wilder.