Leo Santa Cruz issued a challenge to Carl Frampton after successfully defending his WBA featherweight world title against Kiko Martinez in Anaheim, California.
Mexican Cruz twice knocked down his Spanish rival in the first round before ending the contest with a barrage of punches as the fight was called at 2:09 in the fifth round.
Santa Cruz wasted no time getting the upper hand as the opening bell rung, his first knock-down coming just 23 seconds into the fight, and the second with a devastating right hand at two minutes.
After winning just 10 miles west of his hometown of La Habra in-front of 7,780 fans, Cruz said: "I wanted to give the fans a great fight and I knew I could hurt him with a right hand.
"He's a fighter and when he's knocked down, he's going to come back. In the fifth round I knew I had to finish him off and I did."
"The fans love it when two fighters go toe-to-toe and we were going toe-to-toe from the beginning. He was throwing good punches, I was throwing out good punches and the crowd was loving it.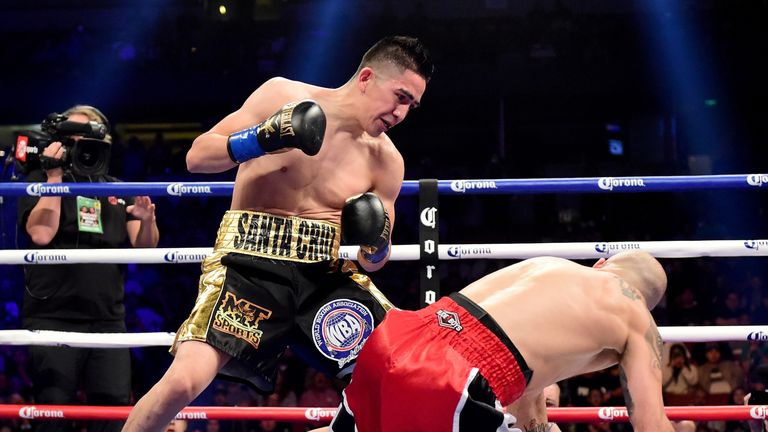 "Then my dad told me to slow down and be smarter so we started boxing."
Santa Cruz is now eyeing a potential match-up with IBF and WBA world super-bantamweight champion Frampton, who beat Scott Quigg in Manchester on Saturday, or Gary Russell.
"I'm up for anyone," he said. "I want the rematch with Abner Mares. Since Frampton won, if he's ready to go up in weight, I'm ready for him. I challenge him to a fight whenever he's ready."
In the co-feature of the Showtime doubleheader at Honda Center, Hugo Ruiz regained his WBC super-bantamweight world title with a devastating first round knockout of Julio Ceja.
In a highly anticipated rematch of their August fight, won by Ceja, Ruiz flatted him after 51 seconds of the round with a fury of punches.
Ceja, who beat Ruiz on a fifth-round knockout last August to win the world title, was hurt by a Ruiz right in the opening moments and never recovered.
And Ceja was taken to nearby UC Irvine Hospital and diagnosed with a fractured right ankle.