'Impossible' demands cost Chris Eubank Jr bout with Gennady Golovkin, says Eddie Hearn
By Michael Kelleher
Last Updated: 09/07/16 1:02pm
Eddie Hearn has blamed "impossible" demands made by Chris Eubank Jr and Sr for the collapse of a deal to fight Gennady Golovkin.
Negotiations for Eubank Jr to challenge Golovkin for his WBA (Super), WBC, IBF and IBO middleweight titles were abandoned when the former failed to sign the fight contract before a deadline specified by Golovkin's camp.
Kazakh superstar Golovkin will instead defend his titles against Kell Brook on September 10 at London's O2 Arena, live on Sky Sports Box Office.
Speaking about the dramatic turn of events on Sky Sports News HQ, Hearn said: "I worked for three weeks on that fight (Eubank Jr versus Golovkin), negotiating with Chris Eubank Sr. It felt like three years.
"We got into a position where everybody was ready to sign. He (Eubank Jr) was offered the same pay-per-view deal as Anthony Joshua, Carl Froch and the one that Kell Brook accepted.
"Unfortunately they (the Eubanks) made the deal impossible. The things they wanted were just a complete no-go. They were given a deadline and they chose not to take the fight."
Brook, the IBF's current welterweight king, will move up two divisions to take on feared knockout artist Golovkin, who has 32 stoppages in 35 unbeaten fights to date.
Brook had been in talks to take on WBO welterweight champion Jessie Vargas in a unification bout but jumped at the chance to face Golovkin when Hearn informed him about Eubank Jr missing the deadline to take the fight.
Explaining how the fight came about, Hearn said: "Well, it was madness to be honest with you.
"We were in talks for two separate fights between Chris Eubank Jr. and Gennady Golovkin and also for Kell Brook in a unification clash with Jessie Vargas.
"The Eubanks were given a deadline for the fight and chose not to accept it.
"Then all of a sudden I was on the phone to Kell Brook and I said 'it's a shame you aren't a middleweight, you could fight Golovkin' and he said 'I'll fight Golovkin'. I asked if he was serious and he said 'absolutely, sign me up'.
"Twenty-four hours later he signed the deal and he is fighting the most dangerous man on the planet, the No 1 pound-for-pound fighter in the world."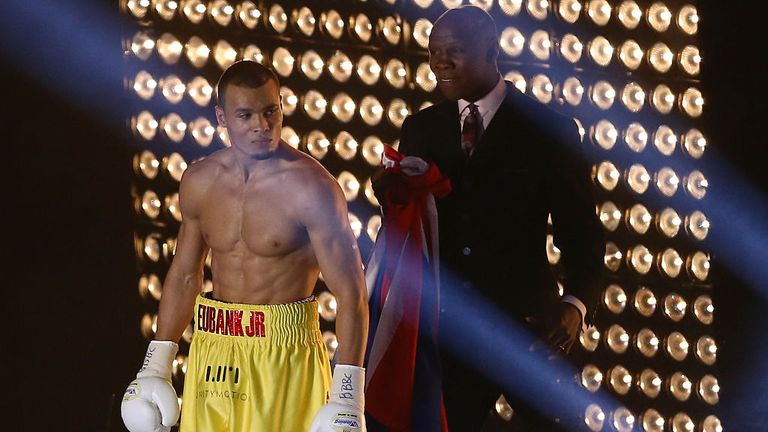 One man who was less than pleased to see Brook fighting Golovkin was Eubank Jr and he took to Twitter to deny ever being offered a contract to face Golovkin.
Eubank Jr tweeted: "I haven't been shown one contract since my fight with GGG was announced. I'm still ready & waiting to sign. Fighting Brook is a joke. #2Small"
Despite the difficulties with negotiations, Hearn feels this is a temporary setback for Eubank Jr.
Hearn said: "There is a huge future for Chris Eubank Jr. He can fight the winner later on in the year. He has got a big future ahead of him. He misses out this time but I am sure he will get his shot in due course."
The Eubanks declined to comment when contacted by Sky Sports.