Tony Bellew to fight BJ Flores in Liverpool on October 15
By Isaac Robinson
Last Updated: 16/08/16 6:58am
Tony Bellew will make the maiden defence of his WBC world cruiserweight title in Liverpool on October 15 - live on Sky Sports..
Having won the vacant crown with an emphatic stoppage of Ilunga Makabu at Goodison Park in May, 'Bomber' (27-2-1-KO17) will again get the chance to fight in front of his fellow Liverpudlians at the Echo Arena.
Standing in his way is Flores (32-2-1-KO20), an American who will be challenging for a world title for the first time and has recently been training under Shane McGuigan alongside close friend David Haye.
"I finally get my chance to shut BJ Flores up," Bellew told Sky Sports News HQ. "He's been following me everywhere and now is the time for him to back up his words.
"I couldn't repeat what he's been saying but he's said a lot of silly things. I'm going to show him why I'm the best cruiserweight in the world.
"He's a good fighter - he's as game as they come and he's got a good right hand but he's fighting for the big boy title now. He has to understand I have given him a shot and I have done that because of his mouth.
"The sight of him winds me up. I keep seeing him everywhere and he's just an annoying individual."
Flores was less expansive in his pre-fight comments, instead insisting that the contest will get his full focus for the next two months.
"I am looking forward to this massive opportunity to become WBC champion of the world," said Flores. "I will completely dedicate the next 63 days of my life to making sure I am 100 per cent ready on fight night.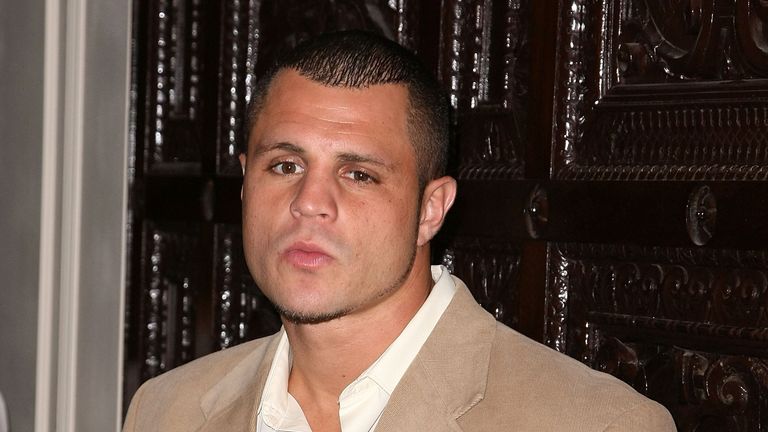 "Tony is a good fighter and has earned his title.  Many UK fans are not familiar with my style and will be in for a real treat on October 15.
"I greatly respect the sport of boxing and I take this very seriously. I have been rated in the top 15 in the world since July of 2007. All of that means nothing unless I am able to finish with a world championship belt around my waist. I am not coming to be part of an event.
There is no love lost between Tony and Flores and fans can expect fireworks in and out of the ring.
Eddie Hearn
"There will not be one corner cut or one day without maximum effort. I am coming to win and after multiple camps and preparations I finally understand exactly what I need to do to win on October 15."  
Promoter Eddie Hearn said: "May 29 at Goodison Park was a night that will go down in British boxing history but the job is not done.
"Tony has done the city proud and I'm delighted to bring world championship boxing back to Liverpool. We are planning a huge card for October 15. There is no love lost between Tony and Flores and fans can expect fireworks in and out of the ring."
Californian Flores, 37, made his professional debut back in 2003 after winning national amateur titles including the Golden Gloves light-heavyweight crown.
Bellew has already expressed a desire to face former cruiserweight and heavyweight world champion Haye after taking on Flores.