Haye vs Bellew: David Haye out of hospital after Achilles surgery
By Michael Kelleher
Last Updated: 06/03/17 9:58am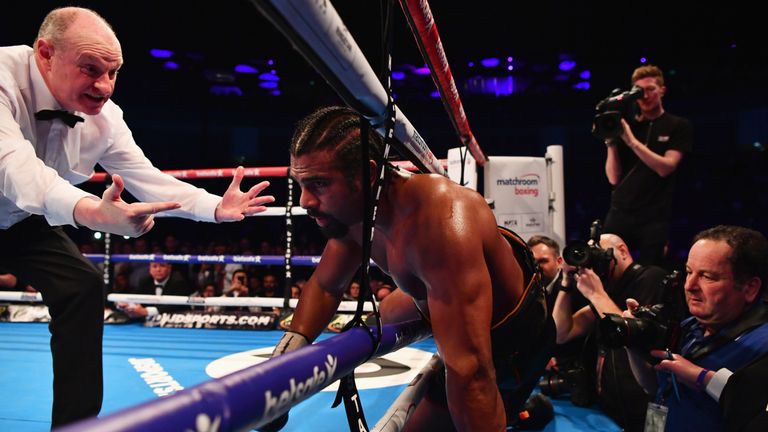 David Haye has been released from hospital after undergoing surgery on a ruptured Achilles tendon he suffered against Tony Bellew.
Haye was forced to fight on one leg after sustaining the injury in the sixth round on Saturday night and the fight was eventually stopped in the 11th when the former heavyweight champion's corner threw in the towel after he had been knocked through the ropes.
A statement from the fighter's representatives on Sunday night read: "David underwent surgery to his right Achilles this afternoon, after completely rupturing the tendon during Saturday night's fight with Tony Bellew.
"David would like to thank everyone for their many messages of support, as well as the staff at the hospital."
It was an unfortunate ending for Haye, who had been embroiled in a bitter war of words with Bellew - who broke his hand during the fight - in the build-up.
To his credit, Haye refused to use his debilitating injury as an excuse in the ring afterwards as he expressed hopes of a rematch in Bellew's home city of Liverpool.
Haye told Sky Sports: "Tony is a great fighter, that's what went wrong. I trained great, I felt good going into this fight. I wanted to do a demolition job but this guy has got the heart of a lion.
"I did not expect him to have the chin and durability he has. You took my best shots and got back up and put me down.
"I'd love to do it again. I loved it, the fans loved it. I've never been in a fight like that before. He beat me now fair and square. I can't think about world honours, I need to get past this guy.
"I'm at his mercy, there is no rematch clause. That's the best fight I have ever had. It felt like a 'Rocky' film. He won the fight fair and square and if he would oblige with a rematch, I'd love that."