Conor McGregor is expecting to wear regulation-sized 10oz gloves despite Floyd Mayweather's suggestion to use smaller versions, his team have confirmed.
Mayweather claimed on Wednesday that he would agree to wear 8oz gloves in his fight against McGregor, which will be shown live on Sky Sports Box Office, 2oz below the size required by Nevada State Athletic Commission rules for bouts at 154lbs.
"Floyd is trying to make an idle threat by saying he'll wear 8oz gloves. Technically, he can't," McGregor's coach Owen Roddy exclusively told Sky Sports.
"We expect 10oz gloves but, on our side, these are miniscule things that mean nothing. Whatever.
"Conor is used to fighting in 4oz gloves [in the UFC] so it doesn't matter to him."
McGregor and his team are also prepared for any further pre-fight gamesmanship from Mayweather, insisting they will not be rattled.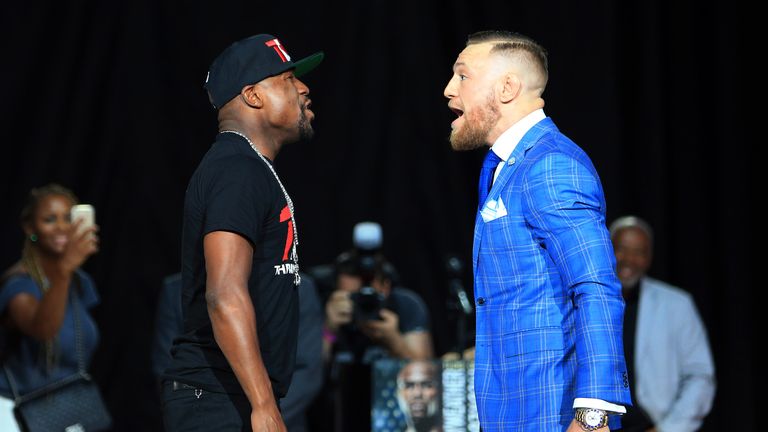 "Floyd may have affected previous opponents but, against us, he's wasting his time by thinking up petty ideas," Roddy said. "He's wasting his own energy."
McGregor has not yet decided upon the branding or colour of the gloves that he will use on August 26, it was confirmed.
The 12-round boxing match will be fought at light-middleweight at Las Vegas' T-Mobile Arena, with McGregor making his ring debut against the 49-0 Mayweather.