UFC president Dana White believes it is "crazy" to rule out Conor McGregor beating Floyd Mayweather in their August 26 superfight.
And White believes the use of lighter gloves will benefit McGregor, who has stated his belief that he will win the fight inside four rounds.
Mayweather puts his 49-match unbeaten record on the line against the mixed martial arts star live on Sky Sports Box Office and goes into the contest as overwhelming odds-on favourite.
But White feels it would not be wise of the American great to underestimate his opponent.
"I stopped doubting Conor McGregor a long time ago," he said. "Everything he's told me he's going to do, he's done, so if he says he'll beat Floyd Mayweather inside four rounds, he will.
"I don't think Conor underestimates him, he obviously respects him but you've got to remember - Floyd is 41 years old and Conor McGregor is 28 years old.
"He's the bigger, stronger fighter. People aren't giving him a chance and that's just crazy. This is going to be a fight, and anything can happen in a fight."
The Event: Mayweather v McGregor


Current rules stipulate that 10oz gloves must be worn in all bouts in the 154lbs weight division, where the duo will meet, but both fighters want 8oz versions used, and the Nevada State Athletic Commission will make a ruling on that.
White believes lighter gloves will tilt the balance of the contest in McGregor's favour, for several reasons.
"It definitely benefits Conor," he said. "First of all, Floyd isn't a big puncher, he's not a knockout puncher.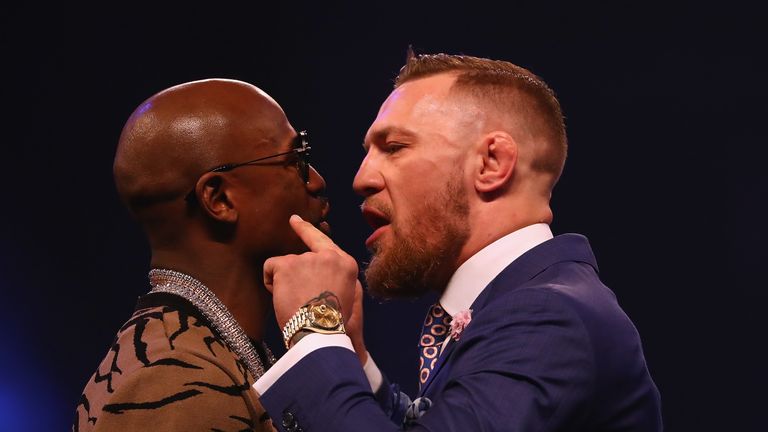 "His whole game is defence, using the gloves to defend himself and smaller gloves means Conor will have more places to hit.
"We've always wanted to have smaller gloves, they didn't want it and now all of a sudden Floyd has decided that he wants smaller gloves.
"So now we have a hearing with the state commission this week and hopefully that will happen.
"Conor isn't concerned about Floyd's punching power at all."
Watch Mayweather vs McGregor, from the T-Mobile Arena, Las Vegas, from midnight August 26, live on Sky Sports Box Office. Book the event online here.