The sport of boxing needs Floyd Mayweather to win his Las Vegas showdown with Conor McGregor, according to British super-middleweight champion Callum Smith.
Former five-weight world champion Mayweather meets Irish MMA star McGregor in arguably the biggest and most intriguing sporting event of the year, live on Sky Sports Box Office, this weekend.
The winner of the bout will be presented with a custom 'Money' belt by the WBC, and McGregor predicted earlier this week he will knock Mayweather out in the first round.
But Smith can see only one winner in this weekend's contest at the T-Mobile Arena, and he expects Mayweather to emerge from the encounter with his perfect professional boxing record still in tact.
Smith told Sky Sports News: "As a fight I think it's very one-sided. Some of the best fighters in the world - Miguel Cotto, Canelo Alvarez, Ricky Hatton, Oscar De La Hoya - none of them have been good enough to come close to beating Mayweather.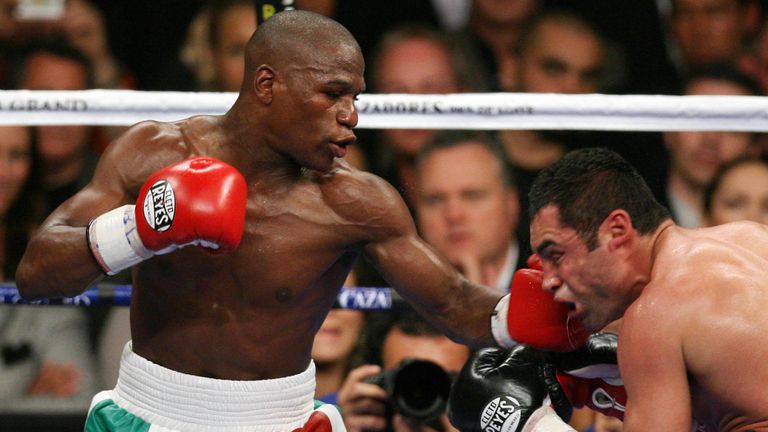 "So it's a tough ask - asking an MMA fighter to do it.
"Everyone is talking about it. It's putting boxing on everyone's lips so it's got to be good for the sport but I think Mayweather has to got to win to keep boxing ahead of MMA.
"There is a lot riding on this for boxing. There is a debate about what's the better sport, boxing or MMA ,and I think if an MMA fighter beats one of the best boxers ever the boxing is in trouble.
"Unless Mayweather has aged a lot overnight I think he should win, and win well."
Watch Mayweather vs McGregor, from the T-Mobile Arena, Las Vegas, from midnight August 26, live on Sky Sports Box Office. Book via your Sky remote or online here.