David Haye wants to defeat Tony Bellew in a similar destructive style as Anthony Joshua
By Richard Damerell
Last Updated: 05/12/17 5:31pm
David Haye says he will forget about challenging Anthony Joshua if he cannot defeat Tony Bellew in the same destructive style as 'AJ'.
Haye's rematch with Bellew has been rescheduled for May 5 at The O2, with the former heavyweight champion hoping to avenge his upset defeat by the Merseysider in March.
The 37-year-old still believes he can compete with the world's best, including WBA 'super' and IBF champion Joshua, but admits even an unconvincing victory over Bellew will not be enough to keep alive his title ambitions.
"Come fight night, I'm not only looking at winning this fight, I really want to make a statement and show the world I am an elite heavyweight," Haye told Sky Sports News.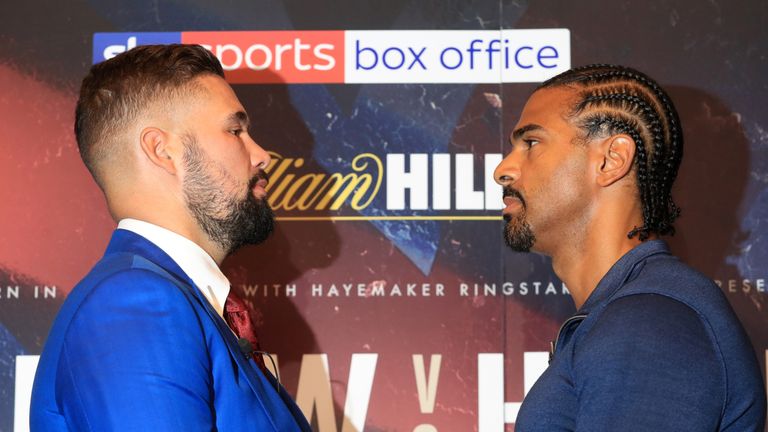 I don't want my performance to be any less than you would expect an Anthony Joshua to deal with Tony Bellew.
David Haye
"I am a guy who can challenge for that No 1 spot. Anything other than a conclusive, spectacular victory, is a failure in my eyes. If I win the fight, but I struggle, I'm honest enough with myself to know the likes of Anthony Joshua, the No 1 in the division... if I cannot beat Tony Bellew in emphatic style, then I've got no business mentioning his name.
"Not only do I have to win, I have to win in a style that you would expect [from] the best heavyweight in the world. I don't want my performance to be any less than you would expect an Anthony Joshua to deal with Tony Bellew.
"For me to be having these aspirations of becoming the best in the division, I have to really do something special.
"What I have done in my last fight, and in my last three comeback fights, is not good enough to beat the best in the division, the Anthony Joshuas."
Haye was forced to pull out of this month's scheduled fight after he suffered a bicep injury in a 'freak accident', but his rehabilitation is going to schedule and stitches have been removed from his arm.
New trainer Ismael Salas has been overseeing this latest training camp for Haye, who is confident that his preparations had been geared towards a much-improved performance.
"I was in good shape as I've ever been in," said Haye. "I was in eerily good shape. It was going so well, it was going too well, and I could feel it.
"It was just Sod's Law that something unfortunate had to happen. I know the formula now. I know why the training camp went so well and this is more of the same.
"Going back to the gym, working hard, eating, sleeping, making sure all bases are covered."