Amir Khan's pre-fight press conference with Phil Lo Greco was temporarily halted after a scuffle broke out between the fighters.
Both fighters were present at the Hilton Hotel in Liverpool ahead of Khan's highly-anticipated return to boxing at the Echo Arena, Liverpool, on April 21, live on Sky Sports.
The pair traded insults in the early stages, but it reached a climax when the Canadian made comments about Khan's wife and family, with the former world champion throwing a glass of water over the 'Italian Sensation'.
Each of the fighters' entourages had to be separated by the security team as tempers frayed, with undercard fighters Sean Dodd and Tommy Coyle - dressed as Batman and Superman - attempting to separate both parties.
There was bad blood between the fighters before the conference after Lo Greco started a war of words on social media.
Khan, who has spent two years out of the ring, has signed a three-fight deal with Eddie Hearn and Matchroom Boxing, with the 31-year-old still holding ambitions of regaining a world title at welterweight.
The British fighter insists he is not underestimating Lo Greco, who has previously fought the likes of Shawn Porter and Errol Spence Jr.
"It is not an easy fight, no fight is easy. A lot of fighters go into fights thinking that it is going to be a tune up and end up getting beat," said Khan.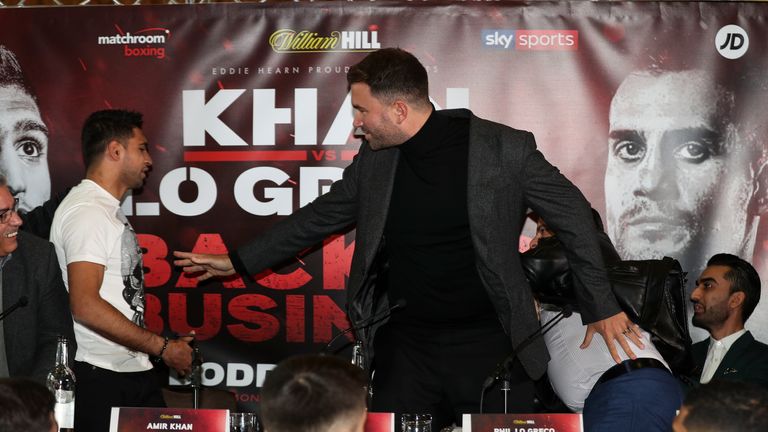 "This is not a tune-up fight for me. I am going to train like it is a world title fight and go in there and do what I do best. Lo Greco has said that I'm past my best. I'm 31, I'm at the peak of my career. I feel better than when I was 28.
"A lot has happened in my life but now it's time to put all that behind me and focus on what I need to do. For me, boxing is the way forward."
Lo Greco has vowed to upset Khan and believes the Bolton-born fighter should have retired after his loss to Canelo Alvarez.
"I've had time to get ready for this fight, I just have to be myself. I want to be in a dogfight. Does he? I don't know," said the Canadian.
"When you pursue a career after you've been knocked out several times, it only gets worse. History tells us that every time you lose by knockouts, it only gets worse.
"I love Ricky Hatton but he knew when to call it quits. Joe Calzaghe knew when to call it quits. He [Khan] should know when to call it quits."
Watch Amir Khan vs Phil Lo Greco, live from the Echo Arena, Liverpool, on April 21, live on Sky Sports.