Tyson Fury says he will 'eat up' heavyweight rivals ahead of an expected return and warned Anthony Joshua that he is only keeping the world titles 'nice and warm.'
The former world champion has been sparring with Australian Lucas Browne in Manchester and suggested that he received positive news this week about a long-awaited comeback fight.
Joshua has claimed the WBA 'super' and IBF titles during Fury's lengthy absence from the ring, but the 29-year-old insists he will soon be ready to rejoin the division.
"I could probably fight this weekend. It's been a long time coming. I've been out a long time, two-and-a-half years," said Fury, who has not fought since claiming three major belts in a 2015 points win over Wladimir Klitschko.
"My ambition is to get in the ring again and get under those lights. I told them recently I want to get some baby oil on, shining, glistening, looking the part.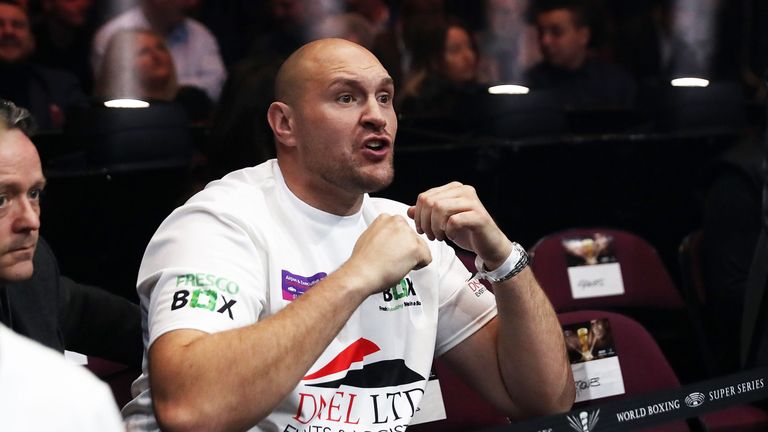 I've had some good news this morning and I want to announce to the world, but I can't.
"Lifting a few weights now. I used to call Joshua a bodybuilder, but I'm starting to look like a bodybuilder now. Taking my protein shakes, getting to bed early and dreaming about smashing people's faces in.
"I've had some good news this morning and I want to announce to the world, but I can't.
"It's coming soon. I've told you all, watch this space, watch my face."
Joshua can collect another world title if he defeats WBO king Joseph Parker in Cardiff on March 31, live on Sky Sports Box Office, although Fury believes his reign as champion will not last much longer.
"I opened the division up for all these heavyweights to have world titles. Joshua has been doing a good job of polishing my belts, keeping them nice and warm," he said.
Asked about Joshua's unification clash, he added: "I think it's a battle of who wants it more.
"Parker has got better speed. Joshua seems to have better power. Parker is a bit younger, Joshua's had maybe a bit more experience with the amateur stuff. It's a good fight, a pick 'em fight, whoever you want to win really."
Deontay Wilder defended his WBC belt at the weekend with a dramatic 10th round stoppage of Luis Ortiz, and Fury is confident he could also dethrone the American, who battled back from the brink of defeat in New York.
"He's made for me. Whatever happens in his career, whether he gets knocked out in his next fight, I want to fight him, because we've got unfinished business," said Fury.
"When I get in the ring, I'll really give him a good hiding. He's a good puncher and he has got a puncher's chance all the way through until the end of the fight. But I believe I've got the best boxing skills in the division, and I'll give him a boxing lesson, and then I'll stop him, all 15 stone of him."
Fury has transformed his own body during a lengthy training camp, which has seen him shed significant weight, and sent out a final message to the current champions.
He said: "[Trainer] Brendan Ingle once said, it's easy to beat Tyson Fury, very, very easy. Nail him to the canvas, because if you can't do that I'm going to eat you up, eat you all up. Deontay Wilder, Anthony Joshua, whoever else, I'm coming for you."
Watch Dillian Whyte against Lucas Browne at The O2 on March 24, live on Sky Sports.