Bellew vs Haye 2: Joe Joyce has a degree and hails from a leafy suburb of London - so why choose the hardships of boxing?
"In art, you look at your subject, and that relates to looking at your opponent. It is a skill"
Last Updated: 02/05/18 3:50pm
His passion is Picasso yet Joe Joyce is doing even more damage to people's faces, writes James Dielhenn.
The secret threat to Anthony Joshua's supremacy of heavyweight boxing might, oddly, be found sat in a lovely part of west London stroking a canvas with a paintbrush, or by evening, be spotted by paparazzi at a trendy restaurant.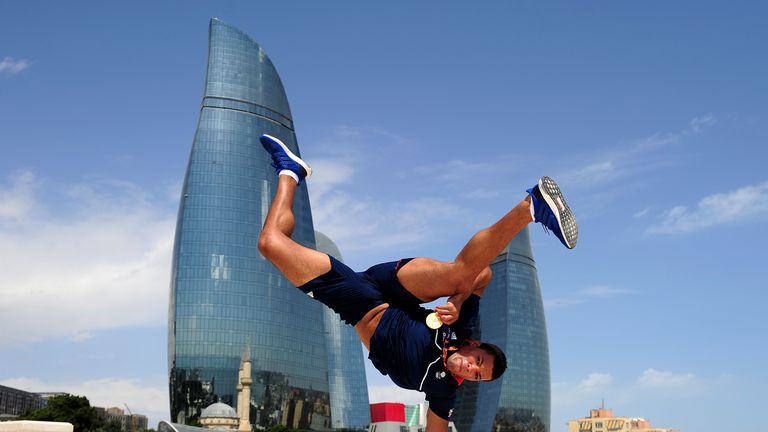 Joyce's imposing height and physique hints that you shouldn't tread on his shoe, but there is little about his personality that suggests the inner rage of a future boxing champion. Until, that is, you tell him so.
"My temperament is like that. I'm a very patient man," Joyce exclusively told Sky Sports, "but if someone pushes my buttons, and oversteps the mark, then they're in dangerous territory."
Would that really happen?
"That would happen…"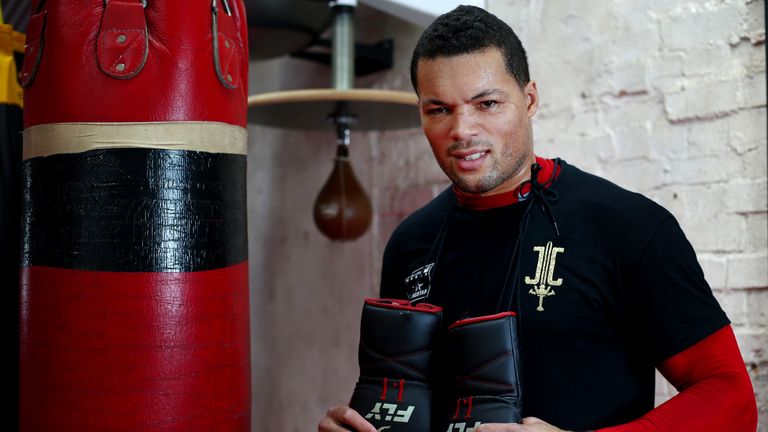 Joyce on Olympic heartbreak against Tony Yoka
"I'm over it, I've moved on. It was a blessing in disguise because people were talking about me, maybe more so than if I won gold."
There is evidence to substantiate that claim, most notably an Olympic silver medal in 2016. Joyce is Britain's most decorated male amateur, and has breezed through three pro fights. If he wins Lenroy Thomas' Commonwealth belt in his fourth outing, live on Sky Sports Box Office on Saturday, it would represent remarkable progress.
So just imagine if Great Britain's super-heavyweight medal hope at the Rio Games had permanently swapped his gloves for pom-poms.
"Towards the end of uni I did an exchange semester in the States, and did cheerleading!
"Part of the credits for my fine art degree are cheerleading, and advanced weight training…"
The fiery reaction of his amateur trainer Sid Khan, brother of London mayor Sadiq, has kept Joyce in his rightful home of the boxing gym ever since that peculiar episode, but cheerleading would never have satiated him anyway.
"I tried a lot of sports but lost interest. I haven't with boxing. I started playing rugby aged six, I was a good swimmer, and I did karate. Then kickboxing and kung fu. I tried to go to the Olympics doing athletics but got injured. I started capoeira.
"I blagged going to Sacramento State in my third year of uni and wanted to do American football."
It becomes clear that Joyce is from unusually talented stock. His brother shines on the West End, his partially-sighted mother has climbed Kilimanjaro. Bohemian parents did oil paintings and pottery at home leading to Joyce achieving a fine art degree and, to this day, he is devoted to painting.
Like boxing, it allows him to deconstruct people.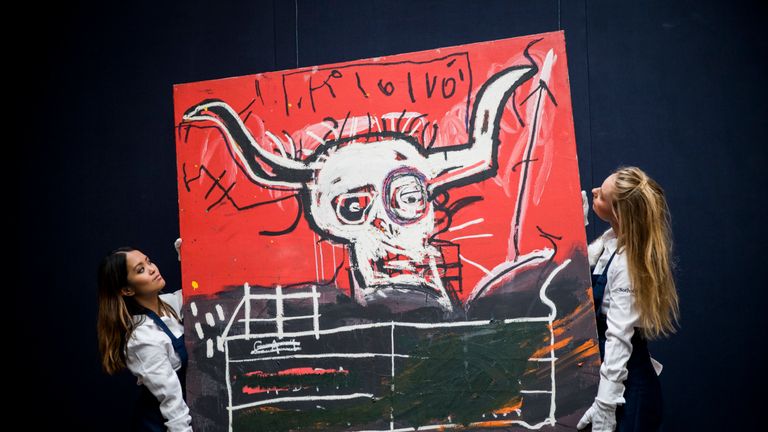 "In art, you look at your subject, and that relates to looking at your opponent. It is a skill so, the more you do it, the better you get.
"I like Jean-Michel Basquiat. I was interested in how, to make a painting detailed, you need to be skilful.
"Picasso's early paintings were detailed but he came away from that, and went for the impression of feeling. These days you can just take a photo of something.
"Back then, it took skill to capture something in time. They wanted their paintings to mean something more."
Painting soothes Joyce but boxing allows him to express his competitiveness and athleticism. He first started as a uni student and has won gold medals at European and Commonwealth amateur level.
Those experiences were hardening - he fought current world cruiserweight champion Oleksandr Usyk, and travelled worldwide with a first-hand view of the sacrifices that aspiring boxers make.
"To beat a Cuban in Cuba was amazing. Havana is beautiful but a lot of it is run-down, and hasn't seen a lick of paint since the 1960s. I had done three weeks' training in Cuba and learned some good skills in the cradle of boxing.
"Cuba is communist so doctors are paid the same as cleaners - it's tough, people don't have much, but they are happy. Kids, aged five or six, had boxing techniques superior to mine in flip-flops or barefoot. It's humbling."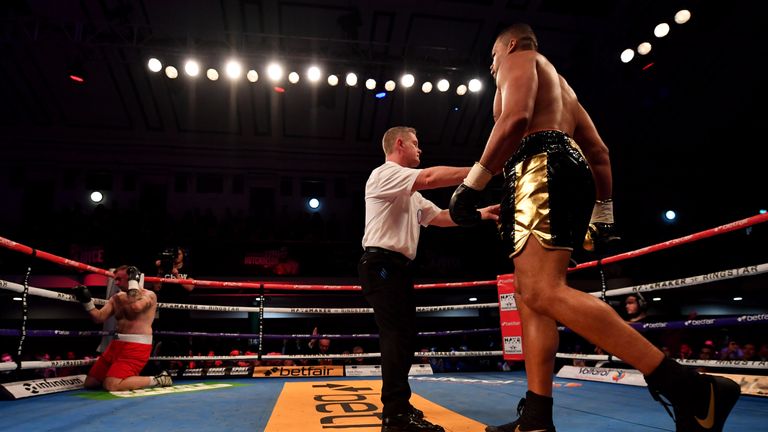 The gloves are a lot smaller but I haven't noticed yet because I haven't been on the receiving end…
Joe Joyce
Humbleness defines Joyce and helped him beat 16-fight veteran Ian Lewison on his pro debut last October.
"It was another day in the office. The fitness and endurance are already there.
"The gloves are a lot smaller but I haven't noticed yet because I haven't been on the receiving end…"
And with that, Joyce offers a rare glimpse of the fire behind his eyes.
"I like things that get my adrenaline going. In other sports you might get injured, but in fighting, you can get hurt. Especially with an audience watching it is primal. There's something about that - real grit and determination.
"I've always had that. I played rugby - 'this is Sparta!' It was a battlefield. This time, with boxing, it's all on me."
Watch Lenroy Thomas vs Joe Joyce on the Bellew vs Haye undercard, live and exclusive from The O2, May 5, on Sky Sports Box Office. Book online here.