Bellew vs Haye 2: Anthony Joshua will sign to fight Deontay Wilder if the deal is real, says David Haye
By Matt Horan
Last Updated: 26/04/18 8:03pm
David Haye believes Anthony Joshua will sign a deal with Deontay Wilder, if he receives a 'no-strings-attached fight' with a guarantee of $50m.
The two champions are currently in negotiations for a mega unification clash after the American's team gave Joshua and promoter Eddie Hearn a Thursday night midnight deadline to accept an offer.
Haye, who will rematch Tony Bellew next Saturday, live on Sky Sports Box Office, is still sceptical about whether the showdown will happen next, but admits that if the money is really on the table, 'AJ' will sign a deal.
"Has he [Wilder] got $50m? If he does it will possibly happen," Haye exclusively told Sky Sports.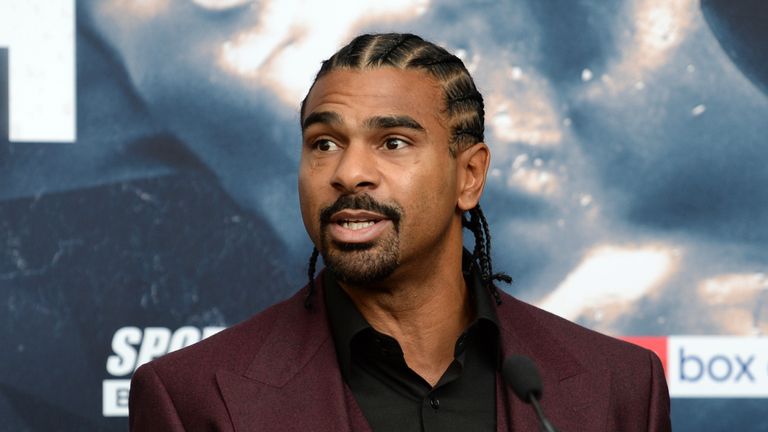 If he puts $50m up for a no-strings-attached fight, I'm sure AJ will sign it - what heavyweight wouldn't?
David Haye
"If he puts $50m up for AJ to fight him in a no-strings-attached fight, I'm sure AJ will sign it - what heavyweight wouldn't?
"Whether that can be done, we will see. A lot of the time fighters throw out crazy numbers.
"I don't think the fight will happen this year but I think at some stage it will happen.
"The fight is building momentum and building hype. Look how long it took Lennox Lewis and Mike Tyson to fight, it felt like forever.
"Both fighters are young and I believe it will probably happen next year."
Haye is of the opinion that it would be Joshua who would prevail should the two towering champions finally meet head on in the ring, stating that "he has a lot more solid resume than Wilder".
"At the moment I edge towards Joshua, he's fought the better opposition and had the better results," said Haye.
"Joseph Parker was an undefeated WBO champ and was better than anyone Wilder has fought.
"Then he also fought Klitschko and even though he was coming off a loss, he was still very dangerous that night and proved it by decking Joshua."
Watch Tony Bellew vs David Haye 2, live and exclusive from The O2, May 5, on Sky Sports Box Office. Book online here.