Bellew vs Haye 2: Tyson Fury willing to give the winner a 'beating'
By James Dielhenn
Last Updated: 27/04/18 11:05am
Tyson Fury has opened the door to fighting Tony Bellew or David Haye as his comeback draws closer.
The former world heavyweight champion has not fought in two-and-a-half years but will keep an eye on rivals Bellew and Haye, who settle their grudge live on Sky Sports Box Office on May 5.
"Listen, if the opportunity arises for those guys to take a beating from me, I'm sure we can sort it out. It should be quite simple," Fury told Sky Sports News.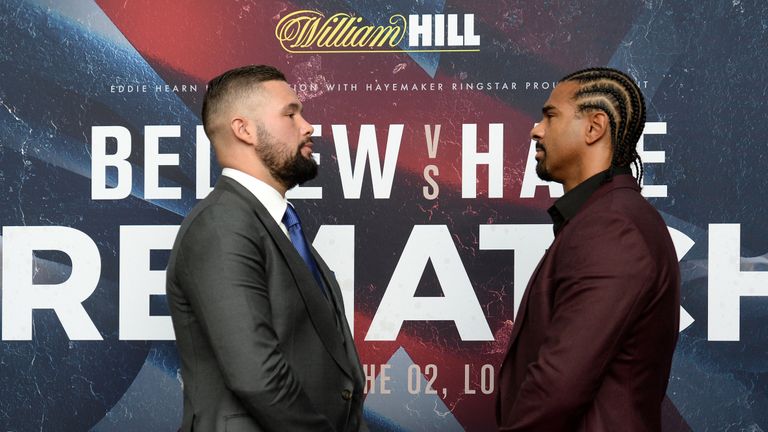 If the opportunity arises for those guys to take a beating from me, I'm sure we can sort it out.
Tyson Fury
Fury, who returns in June, had previously claimed he would never entertain a fight against Haye, who twice withdrew from scheduled bouts citing injury in 2013 and 2014.
Bellew, meanwhile, engaged Fury in some verbal back-and-forth so emerged as a contender to welcome him back to the ring.
Bellew will first aim for a second victory against Haye, whose Achilles was injured in last year's dramatic meeting.
"Haye and Bellew both came up from cruiserweight, they were both cruiserweight world champions, they are both the same kind of size and the same age. It is an intriguing contest," Fury said.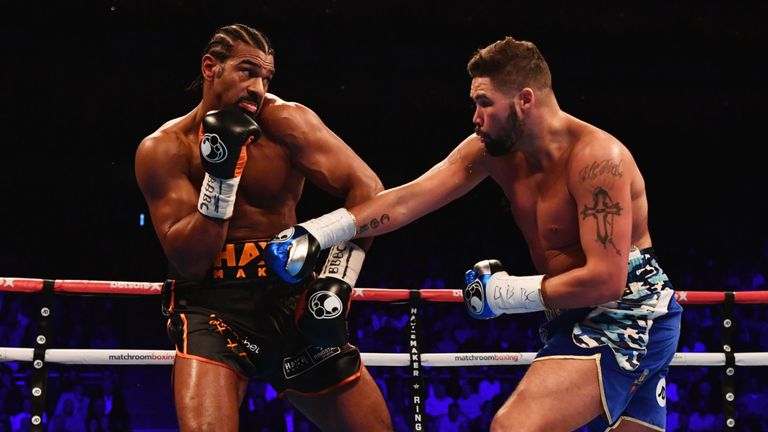 Asked who will win, he said: "Whoever wants it most. Bellew talks a good game, so does Haye. It is an interesting fight."
Fury's last fight was beating Wladimir Klitschko in November 2015 for the world heavyweight title - yet he claimed on Thursday that WBC champion Deontay Wilder inspired his comeback.
"Really, it was Deontay Wilder who spurred me on and gave me the ambition to return," Fury said.
"He [Wilder] said I couldn't do it, definitely not, Tyson Fury is done.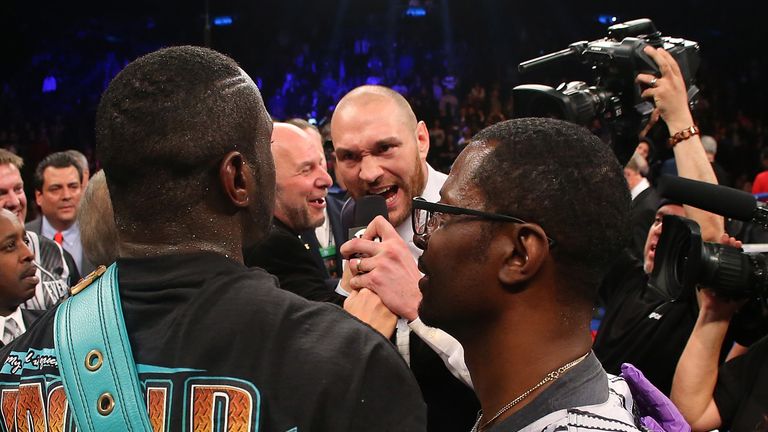 "I thought I will turn this around and come back and knock him out.
"I don't fear anybody, they're all very good fighters, good champions but I believe with my skill and talent I beat them, even my confidence alone is enough to beat these fellas.
"I believe I could tie one hand behind my back and beat [Anthony Joshua] and Wilder, pick either hand to go behind my back, that's how confident I am."
Watch Tony Bellew vs David Haye 2, live and exclusive from The O2, May 5, on Sky Sports Box Office. Book online here.