Bellew vs Haye 2: David Haye wounded and desperate, says Tony Bellew ahead of rematch
By Matt Horan
Last Updated: 01/05/18 8:11am
Tony Bellew labelled David Haye a "wounded and desperate animal" when the pair went head to head at a fiery Liverpool press conference.
'Bomber' was avidly cheered every time he spoke at The Echo Arena's Auditorium, while Haye, unsurprisingly, was booed and jeered on his return to Merseyside ahead of their long-awaited rematch on Saturday, live on Sky Sports Box Office.
Despite his profound confidence, Bellew did concede that although his first victory over Haye has left the Londoner fighting for his career, he remains a massive threat and will not be taken lightly.
"David Haye is very dangerous, probably the most dangerous four-round fighter out there," Bellew said.
"A wounded and desperate animal is very dangerous and we know what we are in with."
Speaking exclusively to Sky Sports in reaction to the presser, 'Bomber' continued: "Haye handled it much better than last time.
"The mask comes off on Saturday though. Don't detract anything from what he is, a brilliant fighter with a great, illustrious career, I wish I had lifted all the belts that he has.
"Ultimately, what matters is on Saturday, styles make fights and you will see, he will lose again.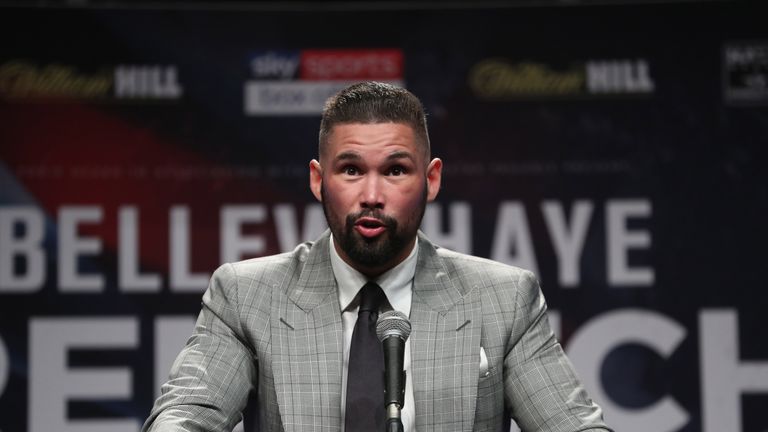 Ultimately, what matters is on Saturday, styles make fights and you will see, he will lose again
Tony Bellew
"David refuses to mention the injury, I give him an immense amount of credit for his bravery and carrying on but that fight was only going one way, he knew."
Haye's team threw the towel in during the 11th round of the first meeting after a debilitating Achilles injury hampered the Londoner and Bellew knows his rival will have a totally different game-plan this time around.
"He can't believe he was being made to miss and being counter-punched. He didn't realise I could be that slick. They don't give titles away. I've risen through the ranks over the years, nothing was given to me.
"He will come in totally different than last time, now he will have a gameplan. He knows he can't just come in and knock me out.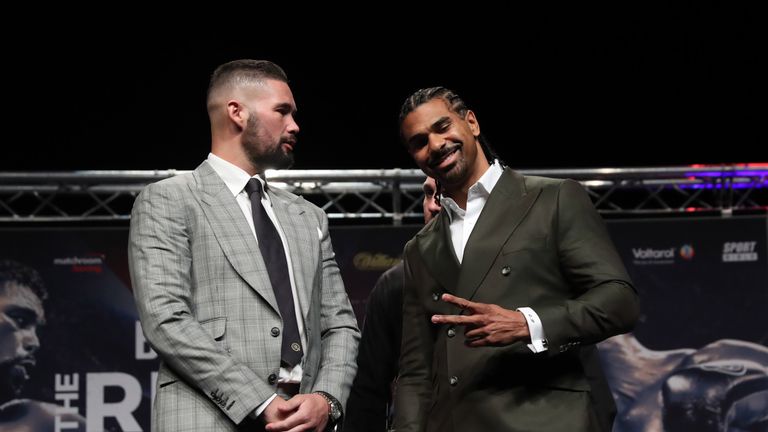 "I was the victor against all the odds, he said he would deal with me in two rounds, he would drill me to the canvas pretty quick.
"I'll be a bit lighter for the rematch, I don't think I will need to be as mobile as last time, I showed him too much respect."
Haye, unlike his last visit to Merseyside, managed to keep his cool despite the abuse from the crowd and respectfully acknowledged his bitter rival.
"I was on my best behaviour once again. Last time out with the abuse from the crowd, I went back at them to match them and it all went pear-shaped and went terribly.
"I turned the other cheek this time, I am going to do my talking in the ring. You don't need me here arguing, it's irrelevant, I need to do it in the ring.
"He looks in great shape, it's a different version of Bellew from last time, but it's a different Haye.
"I went in there angry with the wrong mentality, I wanted to do damage last time with no thought of gameplan or technical ability, I couldn't wait to get my hands on his head, and it was totally the wrong mindset against someone like Bellew.
"I had no respect before the first fight, none, but I do now. He's beaten me so I need to be different. He will have ultimate confidence, he's beaten me once and will think he can do it again."
Following last year's stoppage defeat, Haye is adamant that he is a changed fighter, one back firing on all cylinders, and 'Hayemaker' conceded that if he is not, he will retire.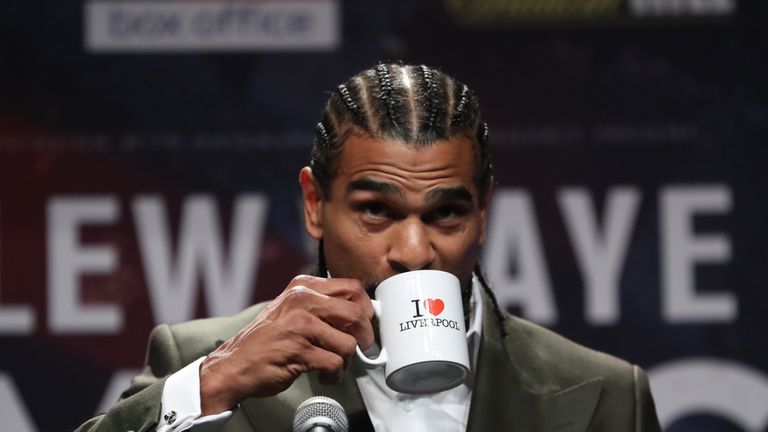 I know what I'm up against. He thinks he knows what he is up against but he really doesn't.
David Haye
"Before was a weak imitation of me, a bad version, everything was off. This time around, I'm way back to where I need to be.
"I expect Bellew to be faster and have better endurance, he ran out of steam last time. I was vulnerable and he couldn't capitalise the way a real heavyweight should.
"I know what I'm up against. He thinks he knows what he is up against but he really doesn't.
"This is not just about beating Bellew, I know I can, it's the manner in which that is important. If I scrape through and look terrible and get knocked down, I am man enough to say I will hang up my gloves."
Watch Tony Bellew vs David Haye 2, live and exclusive from The O2, May 5, on Sky Sports Box Office. Book via your Sky remote or online here.