Bellew vs Haye 2: Don't be fooled by David Haye's smile
Last Updated: 01/05/18 5:26pm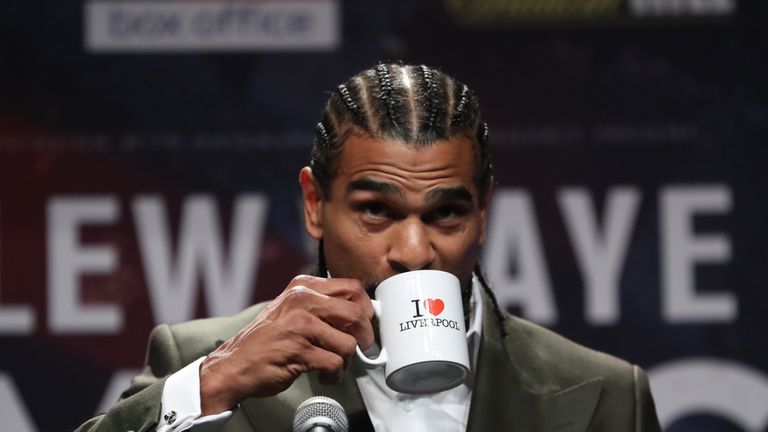 There is menace behind David Haye's grin, writes James Dielhenn. His calm and conniving outlook has often produced better results than the sneer for which he is better known.
His first rematch is days away but how 'The Hayemaker' wishes he could rewind time to have a second crack at the nights that ended in disaster. He would eschew the controversial t-shirts, forget the build-up bravado and pass on the press conference punch-ups.
Haye would have approached things precisely how he is approaching his second fight against Tony Bellew.
"The performances when I have boxed well came when I was cool, calm and focused on the job in hand. Not focusing on what I'm saying, the personality, trying to hype a fight," Haye exclusively told Sky Sports three days before breezing through a Liverpool press conference in the role of the pantomime villain.
A younger, more volatile Haye (in fact, the Haye of 2017) would have snapped back and lost his cool.
"Whenever I've done that, I've come unstuck, to be honest."
Monday's performance in front of a crowd desperate to see his temper was premeditated, and part of an overall game-plan from Haye to approach this Saturday's rematch with the same mindset that has led to his proudest moments.
There were few histrionics before Haye, cut and exhausted, dug deep to beat Giacobbe Fragomeni for the European title on a night that confirmed him as a potential world-class talent.
There was no nonsense when Haye went to the champion's backyard to take Jean-Marc Mormeck's world cruiserweight titles, getting off the canvas to do so.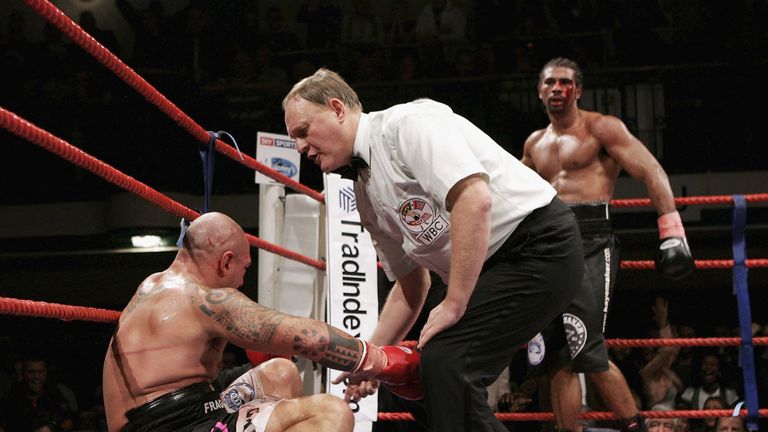 Yet he is still haunted by his three career defeats, bitter that he never unified the heavyweight division by his 30th birthday as he promised to do, and that is what is driving his pursuit of revenge against Bellew, his only conqueror to offer him a second chance.
"The most frustrated I've ever been was after the Carl Thompson fight," Haye exclusively told Sky Sports.
"The reason I lost was because I hadn't paid the price in training. It was self-inflicted. I wasn't injured, nothing happened that was out of my hands. I just cut corners. That was the worst. That was a bitter pill to swallow.
"Fragomeni beat me in the amateurs, then I knocked him out. I also fought Lasse Johansen twice - I beat him in the amateurs and beat him as a pro.
"I always wanted to rematch Wladimir Klitschko but it was never on the table. He went another route. The fight wasn't entertaining. He didn't enjoy the fight, it wasn't fun for him.
"I wasn't in a position to push for it. I pushed for a fight with his brother, who agreed at one stage, but then he fought someone else."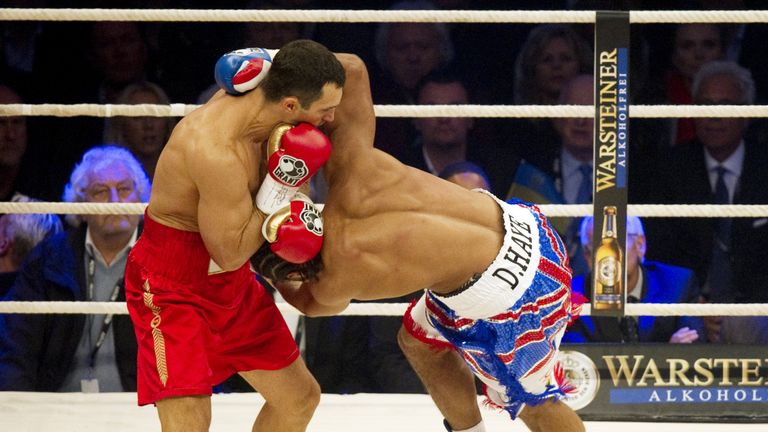 By this stage in his career, only the second in history to unify the cruiserweight division then win heavyweight gold, the build-ups to Haye's fights were tempered with controversy.
A cardboard cut-out of Nikolai Valuev was wrecked before the giant himself was taken down, Audley Harrison was on the end of remarks that drew criticism. Dereck Chisora was dispatched after a nasty brawl in a fight licensed by the Luxembourg board. Haye was winning fights he was expected to win but the vitriol was increasing, and overwhelmed him against Bellew last year.
"I was in good shape but my boxing brain wasn't engaged. And when that wasn't engaged, everything else fell apart.
"Maybe [training] was too far away from home. But I enjoyed it. Don't get me wrong - I didn't have a bad time in Miami.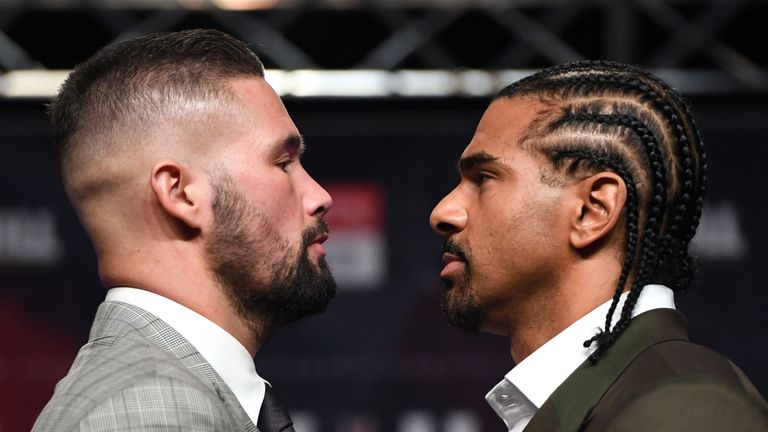 You can spend too much time worrying about press conferences, internet beef and stuff that has no bearing on the fight.
David Haye
"The last guy that Bellew boxed wasn't David Haye. I don't know who it was. At no stage in that fight was it David Haye. It was a weak imitation of David Haye."
Rediscovering his true self, in among the charade of pre-fight shenanigans, is key to beating Bellew.
"You can spend too much time worrying about press conferences, internet beef and stuff that has no bearing on the fight.
"This time I have let him do the screaming and shouting. I have let him make the quotes. I will just do my training, then knock him out."
Watch Tony Bellew vs David Haye 2, live and exclusive from The O2, May 5, on Sky Sports Box Office. Book via your Sky remote or online here.