Bellew vs Haye 2: Tony Bellew and David Haye showed and told us all the right things at media workout
By Richard Damerell
Last Updated: 03/05/18 1:19pm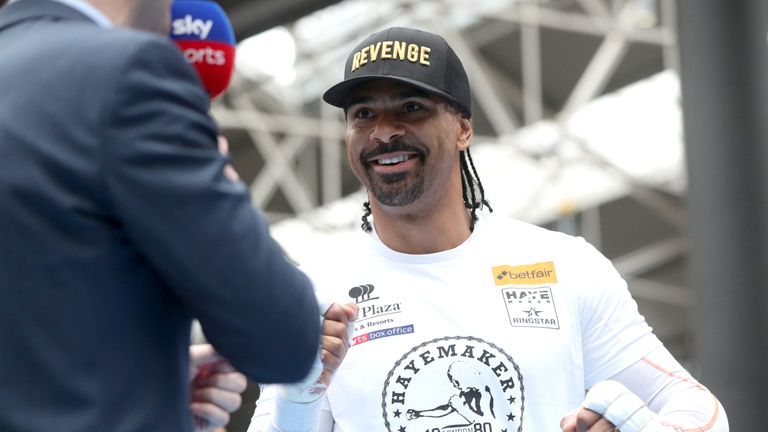 Tony Bellew and David Haye gave a fleeting glimpse of their skills and sent out strong messages, but was the media workout just an act of deception from both fighters?
Haye danced to the beat of 'Let's Groove', by 'Earth, Wind and Fire', displaying a beaming smile to the numerous cameras that captured his every muscle twitch.
"Let this groove set in your shoes, so stand up alright," mouthed Haye as he began an energetic routine that appeared to undermine any lingering concerns about his fitness.
Starting with a stiff jab, Haye gradually cranked up the intensity of his punches, which created a louder thud on the pads of diminutive trainer Ismael Salas, who teetered on his heeled boots.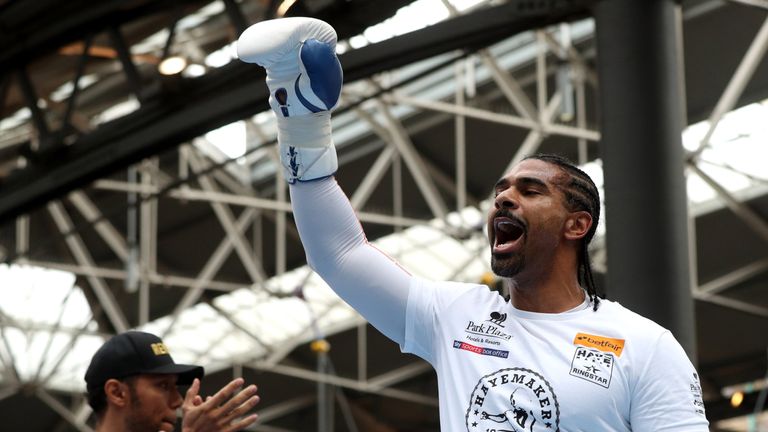 His watching fans were soaking up the showmanship and there was a loud cheer as Haye raised his glove in a gladiatorial salute to the crowd.
By this stage, Bellew was prowling around outside the ropes, shooting the occasional icy glance at his opponent, and Haye perhaps tried to tease the Merseysider by revealing a drastic change of tactics for the rematch.
"I am looking and bringing this fight as long as it can go," said Haye, defying his reputation as a devastating early finisher of fights, and few will expect him to pass up the opportunity of a swift knockout.
A few boos greeted Bellew's entrance to the ring, but 'The Bomber' paid little attention to Haye's London support, and gave a brief display of the nimble movement and sharp reflexes that confounded his foe in the first fight.
Bellew, like Haye, is expected to have a leaner physique on the scales and he rattled off crisp combinations before spinning away from trainer David Coldwell.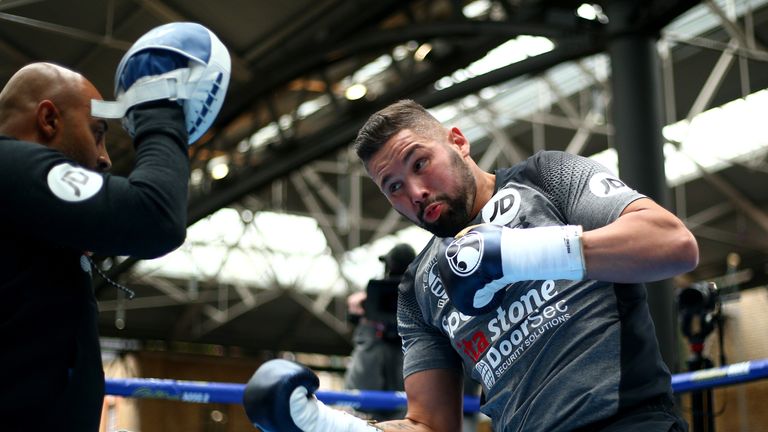 It was then Bellew's turn to verbally counter Haye and he duly obliged, mocking the veteran's decision to remain fully clothed, in stark contrast to the bare-chested performance that preceded the original bout.
Bellew has gleefully questioned the condition of Haye's body after it broke down in the sixth round, predicting that he would decide the fate of the 37-year-old once the first bell rings.
"Believe it or not, I'm in control of this fight, if I do what I'm good at," he vowed with supreme confidence.
But this was only a brief dress rehearsal ahead of Saturday's fight, which is a real showcase of fitness, punch resistance, and remaining skills.
These strong words and strong punches will be rendered meaningless as we finally discover the harsh truth about Bellew and Haye.
Watch Tony Bellew vs David Haye 2, live and exclusive from The O2, May 5, on Sky Sports Box Office. Book via your Sky remote or online here.