Bellew vs Haye 2: Tony Bellew succeeded in forcing David Haye to return to old habits
Last Updated: 04/05/18 12:29pm
David Haye may be unwittingly falling into the same psychological trap that Tony Bellew already caught him in once, writes James Dielhenn.
Something snapped on Thursday, as Bellew and Haye had to be dragged apart by security after their face-off went awry. The semblance of mutual respect created by their first fight has long been stretched to breaking point, and now lies in tatters.
Haye swore it would never get to this point, yet finds himself rucking in the same aggressive manner than originally led to his downfall.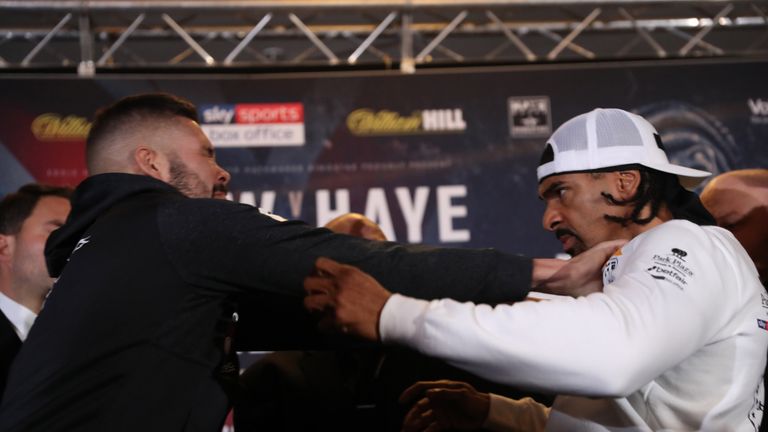 On Monday in Bellew's home city, with hundreds of rival fans spitting venom in his direction, Haye smiled and calmly sipped from a cup with 'I love Liverpool' on it. Bellew insisted it was an act that the infamously hot-headed Haye could never maintain.
Haye claimed to have learned from mistakes of his past, notably against Wladimir Klitschko, when his focus on creating a grudge was followed by a lacklustre performance. But leopards do not change their spots which, to Bellew's credit, he has been repeating for the past year.
"He tried to wind me up in Liverpool. He tried to get under my skin but he can't," Haye declared after Thursday's skirmish.
"He pushed me to get a reaction. It's a weak move, but I believe I won the battle of the mind games."
"I think the pressure has got to him."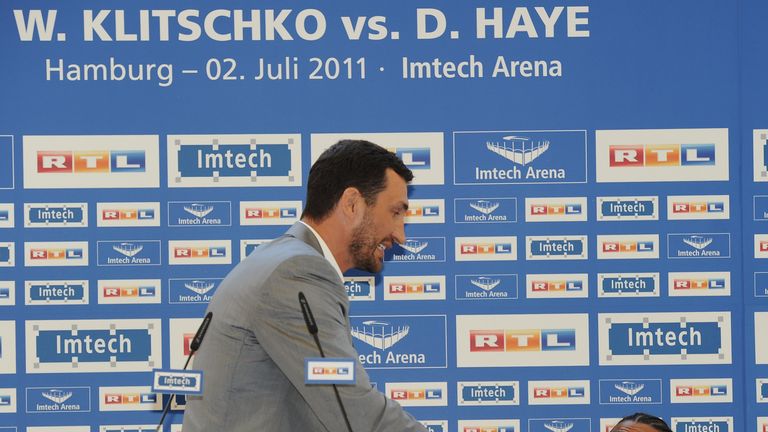 Look closely at the physical conclusion to the press conference and, as the boxers go face to face in the routine manner, Haye instigates the incident. He shoves his forehead into Bellew's assertively enough to force a backlash. It brought about memories of the pair's first press conference together, a year-and-a-half ago, which descended into a brawl.
Bellew, this time, was never going to step backwards and apologise for the awkwardness.
Haye doubled-down on his version of events: "He knows that in two days we step in the ring but he hasn't got a reaction out of me. He tried to force it out by shoving me.
"It's a weak move but I half-expected it. I thought he was going to try and head-butt me.
"It's well-documented that I've got a short fuse, from time to time. He's trying to ignite it but I won't let him."
The issue is that Haye, historically, does not need an opponent to ignite his fuse. He does it himself.
Some of his defining wins, such as Jean-Marc Mormeck, came with a chilled approach which he has tried to replicate this week but his better-known victories, such as Audley Harrison or Dereck Chisora, came amid volatility. He is comfortable in this type of chaos, and it follows him.
"You can spend too much time worrying about press conferences, internet beef and stuff that has no bearing on the fight," Haye told Sky Sports before his brow became furrowed. Exactly a week after those words he and Bellew were pushing and shoving.
Even Ismael Salas, Haye's humble and quiet Cuban trainer, has become the unlikeliest extra in the bickering. He lost the plot when he was interrupted in Liverpool, and likened Bellew's boxing technique to Forrest Gump. There is fire in the Haye camp.
This does not mean Haye cannot win Saturday's rematch, but the concern for him should be that he has acknowledged that his angry preparation for the first fight contributed to his defeat.
"It did, it really did. My whole mentality and mind-set going up there reflected the fight which was then pretty horrendous," Haye said.
The goal this time around, for Haye, must be to separate the pre-fight argy-bargy from his performance when it matters. It might be too late.
Watch Tony Bellew vs David Haye 2, live and exclusive from The O2, May 5, on Sky Sports Box Office. Book via your Sky remote or online here.