Whyte vs Parker: Dillian Whyte's organic success is a breath of fresh air
Last Updated: 31/07/18 3:55pm
Dillian Whyte has clawed, barged and bulldozed into a position that was not supposed to be his. His toughness cannot be taught or quantified, writes James Dielhenn, but it is the most important attribute in boxing.
There was a moment in the middle rounds of Whyte's fight against Joseph Parker, long after he had first succeeded in turning the sweet science into a punch-up outside a kebab shop, when both men nearly careered over the top rope and down to ringside.
Parker looked shocked. Nobody had tried to do that to him before. He hadn't prepared for it. What happened?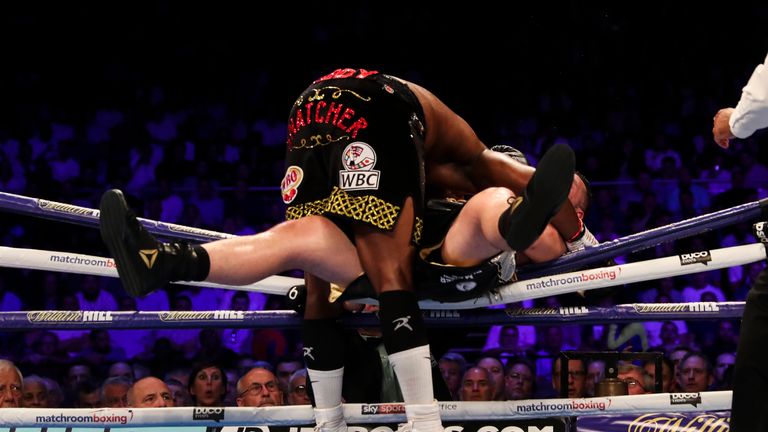 Whyte hadn't planned to practically body-slam Parker out of the ring but it was all part of the rough-and-tumble instinct that is beginning to become his honed style. The beauty of Whyte's success is that not much about him ought to be effective against world-class opposition - not the cuffing right hand that he loops, not the over-committed hooks that send him off balance, not the 18st-plus weight. But, here we are.
It is to Whyte's eternal credit that he has gate-crashed the heavyweight party, elbowing Olympic prospects out of the way while making a boisterous fuss in his Jamaican twang. Finally, Whyte belongs at the top table and that is due to a mind-set that no trainer can evaluate, or teach.
He essentially beat the fight out of Parker on Saturday; their faces told the story, never mind their fists. Whyte, snarling and eyes bulging, made his opponent wilt under the realisation that he wasn't willing to dig to such depths - Parker was perceived to be the more technically gifted, the harder puncher, with the more durable chin but either those preconceptions were never true or they were made to become redundant. Whyte was winning because he wanted to win more.
He remains vulnerable which makes him one of British boxing's most exciting representatives at the moment. Down in the last round from Parker's quick straight right hand (the only punch that had threatened Whyte consistently), his work could have been dramatically undone. The final bell came at a fortunate time but still required Whyte, previously exhausted and now hurt, to come through significant travails.
It is grit that exists within some people more than others. Nothing has come easy to Whyte - he left Jamaica for London but became involved with gangs, and was stabbed and shot before finding a boxing gym which is so often a place of solace for young men with a similar background.
Lacking the polished amateur education that benefits Anthony Joshua, Deontay Wilder, Alexander Povetkin and Parker among many more of his rivals, Whyte has taken time to refine a route to victory that suits him. He has a powerful left hook and endeavours to end most combinations with that punch. He leans his enormous frame on opponents at every opportunity. The jab is improving. Perhaps most importantly he is learning to navigate through 12 rounds through the obstacles of pain and fatigue.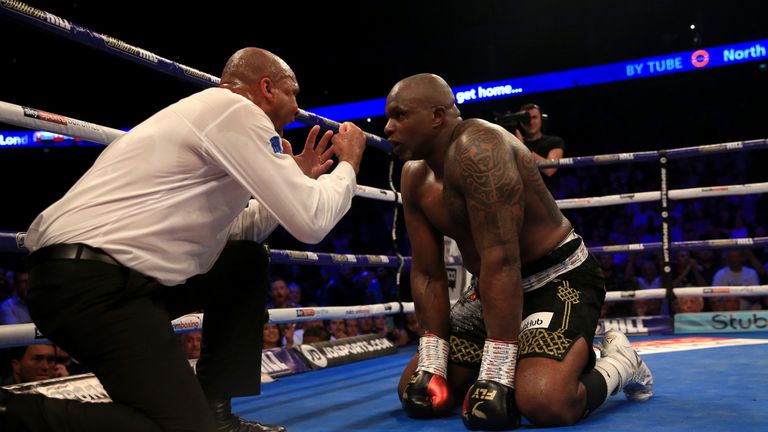 Roughing up the 17st 4lbs Parker on Saturday, you wonder how the brute Whyte might do with Wilder, who weighed-in for his last fight a remarkable three stones lighter than Whyte's latest statistics. His propensity to welcome adversity and nastiness inside the ring suddenly look a major problem for Wilder.
Whyte's use of his weight against Parker (he weighed-in at 18st 6lbs) is also redefining what we thought we knew about the optimum heavyweight size.
Joshua, for example, was a career-heaviest 18st 2lbs against Carlos Takam last year but made a point to shred weight for his next fight to achieve a more mobile frame. Wilder, the WBC champion, weighed-in just 15st 4lbs for his last fight.
Even Tyson Fury was below the 18st mark for his standout result against Wladimir Klitschko, who himself never breached that mark.
So again, something that has been proved ineffective by past champions is somehow working for Whyte. That colossal frame brutalised Lucas Browne in March and was used like a school bully's to bash Parker around.
Nothing about Whyte's recent success was inevitable, expected or choreographed. And that's what makes it such a breath of fresh air.