Saul 'Canelo' Alvarez and Caleb Plant threw punches when their first face-off descended into a wild brawl on Tuesday night.
Sky customers: Buy Joshua vs Usyk
Non-Sky customers: Buy Joshua vs Usyk
The atmosphere was already tense when Canelo and Plant when eyeball to eyeball, both muttering insults to each other.
Canelo aggressively shoved Plant backwards. Plant then threw the first punch and Canelo responded by throwing a shot of his own until they were separated by security.
Plant was cut underneath his right eye by the melee.
Canelo and Plant will decide the undisputed super-middleweight championship on November 6 in Las Vegas.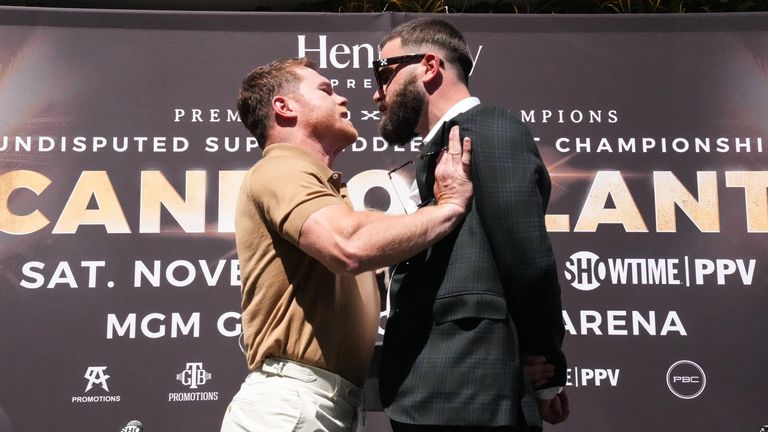 "You can say whatever to me, but not to my mom," Canelo said afterwards. "I'm going to fight anyone who says something about my mom. And he swung first. I just pushed him. He swung first, and I do what I do. He crossed the line.
"It will be over in eight rounds or less. I'm going to knock out this guy. Easy."
Plant denied mentioning Canelo's family and said: "We just had some normal back-and-forth banter up there and then whatever happened, happened. It's none of my concern though. I'm focused and locked in on November 6."
Mexico's Canelo holds the WBA, WBC and WBO belts - since December, he has already ended the undefeated reigns of British duo Callum Smith and Billy Joe Saunders.
America's Plant holds the IBF title, the only remaining belt outside of Canelo's grasp, and is unbeaten in 21 fights.
Canelo is a four-weight world champion widely recognised as the No 1 fighter in the world.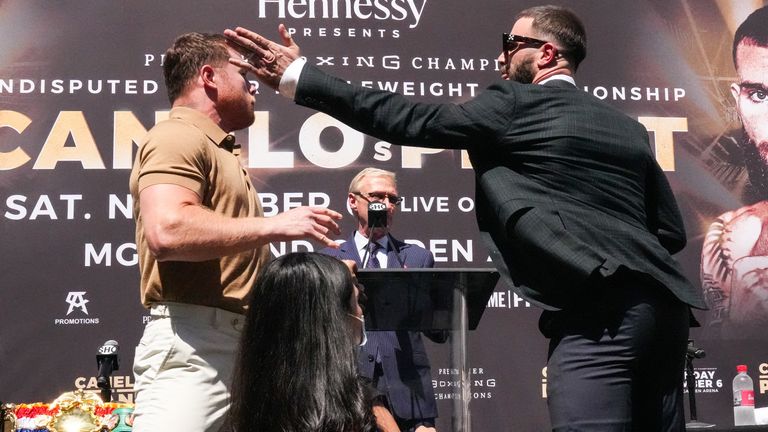 Canelo had earlier said to Plant: "You are not on my level and you will see on November 6. You don't want to fight now, I promise you.
"We come from nothing and we worked hard to be here. For somebody to lie and talk trash about us, that upset Eddy. It is what it is though. We just have to show everyone who we are on November 6.
"Caleb might be on the same level as Saunders and Smith, but he's not on my level. I respect that he isn't here to back down. You can see from today that this is definitely going to be a good fight.
"I know what I need to do and I know a lot about him. He's a good fighter but I know my skills. My experience is going to give me the edge in the fight. I have faced similar styles to Caleb's against Floyd Mayweather, Erislandy Lara, Austin Trout and Saunders.
"He's an insecure person and that's why he came with a lot of excuses about lots of things. I don't care about it though. I'm just going to do my best on November 6 and win the fight.
"To be undisputed is history for Mexico and for everyone on my team. To be the undisputed champion is just a great thing for my career."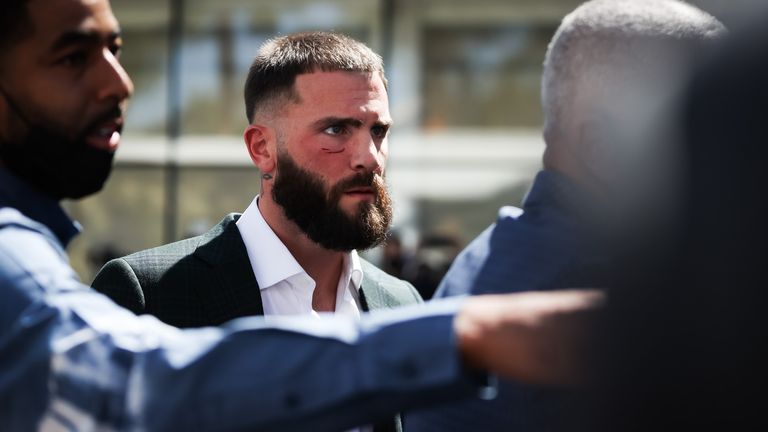 Plant said: "I know only one thing better than proving people right, and that's proving people wrong. I've been doing that my whole life. As soon as I stepped on the stage, people started talking about what I can't accomplish and what I can't do.
"Where I come from, there is no boxing community. There was no other pro I could look to and say that if he can do it, then I can do it. All I had was my mind and my heart.
"I don't do this to be famous or to get attention. When I first started, it was just me and my dad. No one thought I'd be standing here today. I can remember him and my grandfather scrounged up a little bit of money to open a little boxing gym. There was just one heavy bag hanging in the corner. But when you really want something, you don't need all the fancy things. You just need your mind and your heart.
"I know that people don't believe me when I tell them I'm winning on November 6. All those people who tell me that I can't do something, you live believable lives and you do believable things. I promised myself that I was going to run this all the way to the top, with no problem crashing and burning along the way. I set out to live an unbelievable life and accomplish unbelievable things. Those people who doubt me are the very reason that I'm here."
Watch Joshua v Usyk on Saturday, live on Sky Sports Box Office, from 6pm. Book it via your Sky remote or book it online here. Non-Sky TV subscribers can book and watch it here.