Theophane on 'Big Brawl' card
Trans-Atlantic boxer Ashley Theophane is to fight on 'The Big Brawl' card on July 23 to defend his British light-welterweight title.
By Rob Milligan
Last Updated: 08/07/11 2:11pm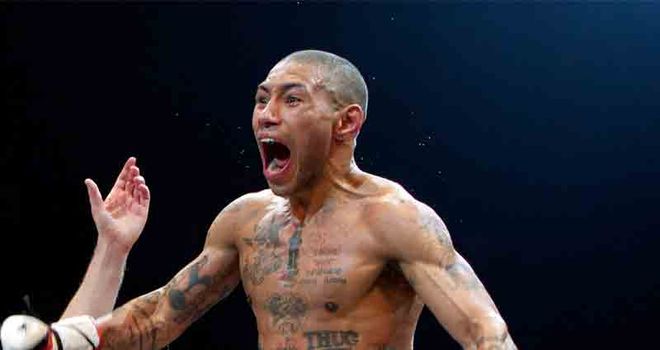 Trans-Atlantic boxer Ashley Theophane is to fight on 'The Big Brawl' card on July 23 to defend his British light-welterweight title.
Theophane will go toe-to-toe with Welsh champion Jason Cook at Wembley Arena on the same card that sees Dereck Chisora's return against Tyson Fury, who at 14-0 holds an identical record to the British and Commonwealth heavyweight champion.
Londoner Theophane has successfully split his training between his home-town and adopted city, New York, a decision that was inspired by his idols.
"I watched (Mike) Tyson and (Marvin) Hagler and wanted to come to America to train and fight. For my 11th fight I came to Gleason's Gym (in NYC) to see if I was good enough.
"I held my own and gained confidence sparring Pauli Malignaggi, Chris Smith and Elio Rojas. I've kept coming back to New York City and also gained good experience working with (Yuri) Foreman and (Dmitriy) Salita. I only sparred with Paulie once, but I watched him go on to big fights against (Ricky) Hatton and (Amir) Khan. I would like to get to fight big names like that.
"I'd love to fight the winner of Khan-(Zab) Judah. For now, though, I want to make three quick defences of my title belt to keep my belt. Then, maybe, the European title and on to what I've always wanted, the world title."
Confident
Theopane, who's ranked 14 by the IBF, captured the British light welterweight championship in his last fight by taking a unanimous 12-round decision against Lenny Daws in February, beating Delvin Rodriguez and former world champion DeMarcus Corley on his way.
The 5' 7'' boxer is naturally a light-welterweight, but with the majority of Theophane's pro fights coming in the welterweight division, he maintains that he can fight successfully in either class.
"I've always been a light welterweight but couldn't get good opportunities at 140 pounds," he commented.
"My biggest fight opportunities came at 147 and I took them. I make 140 pounds fine with a little more preparation and watching what I eat. I still feel good and put on 10-12 pounds hydrating after the weigh in.
"I feel strong at light welterweight. They (140 pounders) are a bit quicker but the majority are my size, averaging 5' 8, not six footers."
Inspired
The 5' 9" Cook, a former IBO and European lightweight champion, has lost only three times in 32 pro fights, but Theophane is relishing the opportunity to fight in his own country.
"I want to show British fight fans that I'm a force to be reckoned with in the 140-pound division," he added.
"I'm going into this fight to win and win impressively. They're going to see a fighter who can box or go toe-to-toe if I have to. I have decent speed and a great jab like Hagler, who was one of my idols. He was a serious guy who broke-down boxers much like Miguel Cotto does now.
"Hagler has been an inspiration for me. He was No. 1 in the world but couldn't get a world title shot. He finally did but got a draw and had to go to England to win it. He had to do things the hard way and so do I.
"He inspired me to work extra hard, take opportunities that come along, and make the most of it."
Theophane's manager, Mike Michael, is also relishing the prospect of a mouth-watering bout, he said: "We are ecstatic and proud of Ashley for defending his British title as the co-main event of the Chisora-Fury showdown.
"Ashley is rapidly evolving into a world-class boxer and he's ready to step-up to fight the best in the world."