Anderson on revenge mission
Kenny Anderson has stated that he will derail the rise of George Groves by scoring an early knock out in the pair's rematch.
Last Updated: 23/01/12 6:10pm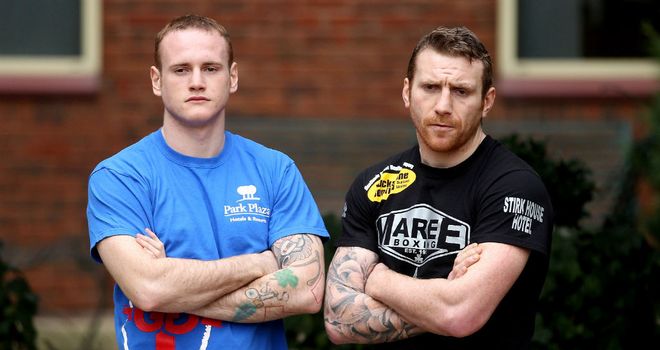 Kenny Anderson has stated that he will derail the rise of George Groves by scoring an early knockout in the pair's rematch on March 16.
The Edinburgh fighter suffered the only defeat of his 16-fight professional career after being stopped in the sixth round the last time the two met in November 2010.
The Londoner had to work hard for his victory, however, being knocked down for the first time in his career but recovering to seal the win with a flurry of powerful punches.
Groves has since gone on to claim the super-middleweight British crown by defeating Olympic champion James DeGale and has also defeated Paul Smith to keep hold of his Commonwealth title.
A world title shot has been mooted for the 23-year-old, but Anderson expects to turn those plans upside down at Wembley Arena.
"I remember the first fight very clearly. Everyone saw it, everyone knows what happened, but that's done now," Anderson said.
"I have improved. People might think he is destined to beat me but that will not happen at all.
Aggressive
"This is going to work out for me. I am going to smash him. I am not exactly known for my back-foot style or anything like that, so it will be a knockout. I think he will get smashed pretty early on."
Anderson, who earned a mandatory shot at Groves' British title with stoppages against Joe Rea, Lee Duncan and Paul Morby, says he will use his defeat to Groves in Manchester as the motivation he needs to secure the win.
He added: "It does come into my head sometimes. It was hurtful and I don't want that to happen again. This fight is a chance for me to just show what I can do."
Being floored against Anderson is the only minor blemish on Groves' undefeated 14-fight record since he turned professional in 2008.
"I made a lot of silly mistakes and I won't be making them again," Groves said.
"It was a very tough test for me. I got into a little war, got hurt, had to dig deep, and basically in the end I ended it with a couple of good punches.
"I've watched the fight back lots of times and every time I say to myself, 'what are you doing?! You are making this so difficult for yourself!'
"He will be frustrated that his claim to fame is that he knocked me down but didn't win. That will be burning inside him but I am looking forward to showing people this is how I should have done it the first time."