David Price knocked Audley Harrison out cold as he defended his British and Commonwealth titles in Liverpool
David Price surely ended the career of Audley Harrison with a devastating first round knockout victory in Liverpool.
Last Updated: 14/10/12 6:26pm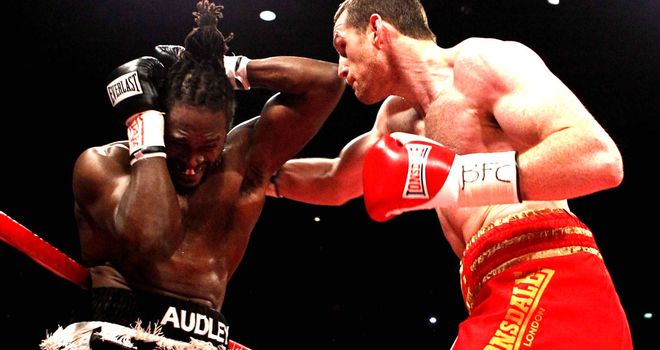 Price, defending his British and Commonwealth titles for the first time, hurt the former Olympic gold medallist with a straight right hand inside a minute and the veteran never recovered.
The Liverpudlian, moving his career record to 14-0, knew his awesome power was too much for Harrison who, backed up on the ropes, took another right hook that knocked him sideways.
Price moved in for the finish, a concussive left hook leaving Harrison reeling before another enormous right hand knocked him cold before he hit the floor.
It was a brutal show of power from the likeable Price, for whom a world title shot against Wladimir Klitschko surely moved a step closer.
Which route to the top promoter Frank Maloney takes remains to be seen, although the diminutive Londoner offered the unbeaten Tyson Fury half a million pounds in the immediate aftermath.
For Harrison, a quiet life with his young family on the outskirts of Los Angeles now surely awaits.
"The finish was as good as it could have been, not enough happened in the fight to make it as good as it could be," Price said. "I need more rounds to see the best of me.
"I frighten myself sometimes. All the way through camp I never feel great until the last week when I put the smaller gloves on, and I know someone's on the end of a hiding come Saturday night.
"Unfortunately for Audley it was him but I didn't expect it to be that quick. That finish would have knocked anyone in the world out."
It later emerged that former British champion Matt Skelton, who fought on the undercard, would fight Price next on December 8.