George Groves believes a fight with Carl Froch could become a reality
George Groves has reiterated his belief that a fight with Carl Froch could happen sooner rather than later.
Last Updated: 10/03/13 2:44pm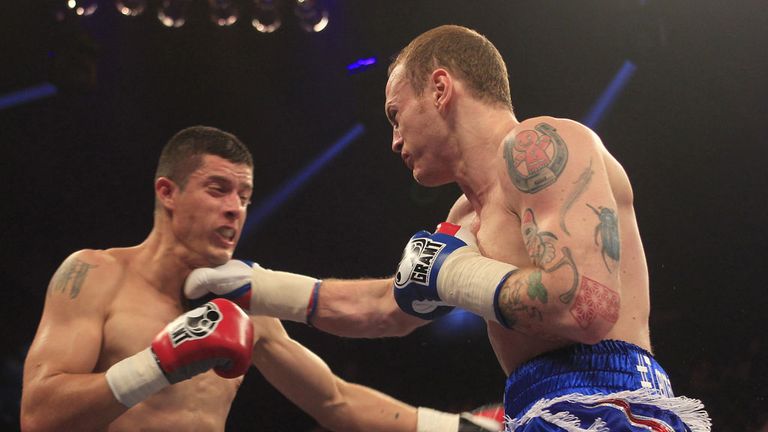 IBF super-middleweight champion Froch is currently tied up with Mikkel Kessler and potential re-matches with Lucian Bute and Andre Ward.
However, British rival Groves intends to crash the party and will be looking to advance his reputation when he fights on the Froch-Kessler undercard on May 25.
"We can't name anything yet," he told Sky Sports on a potential opponent. "Within the next few weeks we'll see what's available. It has to be a big fight, I need a big fight.
"If we can get a title or an eliminator for a title that's we'll hope for, at worst it will be a significant fight against a ranked opponent that will bring me on.
Unification
"Carl's a great fighter, we sparred together over the years but we're rivals now. There's a possibility a fight could happen sooner rather than later.
"If I can get a few fights (before then) that would be great. It would be awesome if I could win my own title and we could have a unification clash.
"I don't think I'll be sparring with Carl now as we're rivals. I want Carl to beat Kessler. As a Brit I want him to win, and as a friend.
"There's no-one I don't think I can't beat. I'm a confident guy and I dont like getting beat."
Groves had his first fight since joining Matchroom Promotions when he stopped the overmatched Dario Balmaceda inside three rounds at Wembley on Saturday.
And the Londoner is pleased to have made the switch from Frank Warren.
"It's great to be part of the team at Matchroom and I'm really excited about getting on and boxing," he added.
Obvious
Promoter Eddie Hearn believes Froch vs Groves could be made as early as this year.
"He's got to keep winning," Hearn told Sky Sports of Groves. "Last night was what it was, but he needed to get out and get some rounds in.
"Froch against Groves is an obvious fight but it has to warrant happening, and it doesn't right now because Groves is only 17-0.
"I think 2014 or even late 2013 it's an obvious fight. Froch wants the Ward rematch...but that's a tough fight and there's other fights out there.
"I think Carl would win right now but you don't know how good George might be. He's got fast hands, he's exciting and likes to trade, which is not a good idea against a guy like Carl. We'll see."