Anthony Crolla draws with Derry Mathews in a thrilling clash in Liverpool
Anthony Crolla and Derry Mathews fought out an absorbing draw in their rematch in Liverpool.
Last Updated: 01/04/13 2:12pm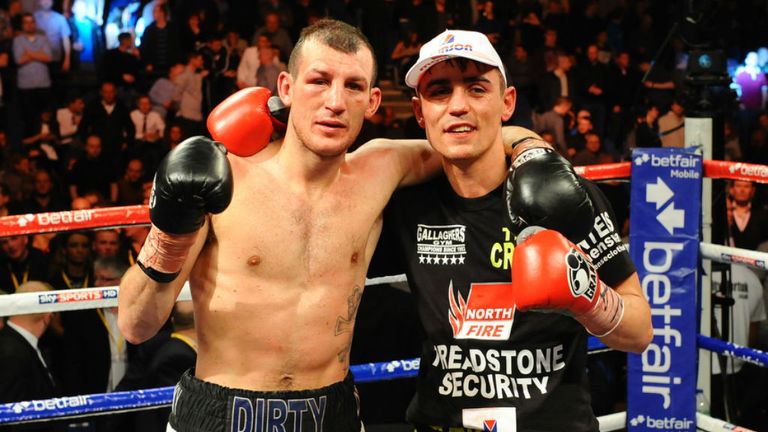 Local hero Mathews, who stopped Crolla in April 2012 in their first meeting, seemed to have the fight in the bag going into the closing stages only to be caught out by Crolla's strong finish, the Mancunian coming back strongly after a mid-fight lull.
The opening three minutes proved very cagey as Crolla took most of Mathews' punches on his arms, ducking inside only briefly to land a couple of useful shots himself.
Crolla stayed on the back foot in the second with Mathews, backed by a partisan crowd, also showing plenty of patience and catching his opponent with a left that caused a little bit of blood around his right eye.
The fight began to pick up in the third with more attacking intent, and Crolla caught Mathews a couple of times in the fourth as he moved on to the front foot and turned the tables a little.
But it was Mathews who started to take control in the sixth, worsening the damage around Crolla's right eye and consistently picking off his opponent from mid-range while most of the ringside supporters appeared to be watching some shenanigans going on elsewhere in the crowd.
Lead
Mathews continued to pile up the points but briefly went back into his shell in the eighth when some crisp jabbing from Crolla caused some damage to his nose.
Crolla was stopped in his tracks midway through the ninth when Mathews landed the punch of the night but, after quickly grinning at his rival, he gamely fought back and made it to the end of the round despite looking a little tired.
By now, Crolla knew he needed a strong finish, and he certainly produced one in completely dominating the 11th with a couple of punches that knocked Mathews' head back.
Mathews was really feeling it in the last three minutes as well and his punches came in far slower, with Crolla rocking him again as he sensed a late run towards what had seemed a most unlikely victory in the middle rounds.
Both fighters predictably celebrated at the final bell with the cards obviously close at the end of an enthralling spectacle, but deciding Steve Gray scored the fight a 115-115 draw after the other two judges had given Mathews and Crolla a 115-113 victory apiece.
Elsewhere, Tom Stalker made it two from two in his professional career, the Team GB boxing captain from London 2012 beating a game Andy Harris by points in a four-rounder.