Brian Rose 'honoured' to wear Lonsdale badge against Joachim Alcine
Brian Rose will be the first boxer to don the Lonsdale badge when he battles Joachim Alcine on Saturday night.
Last Updated: 21/04/13 8:33am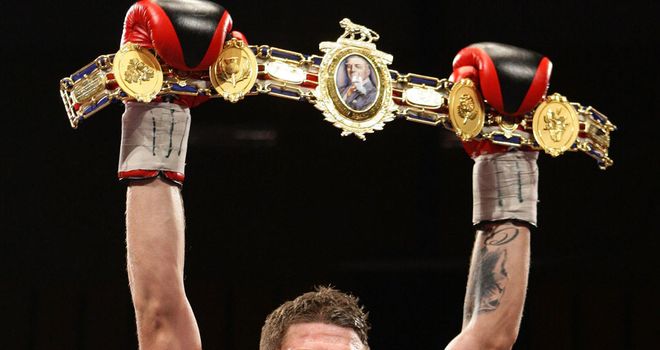 Rose, 28, won the Lonsdale belt outright in October when he defeated Sam Webb in Blackpool's Winter Gardens arena, and will now don a motif signifying that on his trunks when he boxes on Sky Sports.
Every boxer to have secured the Lonsdale strap permanently, including Rose's Matchroom stablemates Carl Froch and Kell Brook, will have the badge on their shorts for their fights from now on.
And Rose, who has won each of his last eight bouts, besting the like of Prince Arron and Max Maxwell, says he is honoured to be the maiden fighter to display the emblem as he aims to prove himself at world level.
"I'm deeply honoured to be the first boxer to wear the Lonsdale badge," said Rose. "Winning the British title outright is the dream of any boxer and it's certainly the stand-out highlight of my career so far.
"I was co-promoting myself going for the Lonsdale belt which is something I always wanted to do and I'm glad I did. It'll be sad to give it up but it's not fair on the lads fighting domestically to keep hold of it so I will have to give it up eventually.
"There's no doubt in my mind that I am ready for this but going into the ring with the Lonsdale belt is a huge confidence boost for me. I've got that belt for keeps so I don't mind letting someone else fight for it."
Wonderful
British Boxing Board of control general secretary Robert Smith says the Lonsdale badge, an idea pitched by Sky Sports Boxing editorial assistant Ross Thompson-Jenkins and designed by Suzi Wong Creations, is a terrific way to reward boxers who have captured the belt.
"The British Boxing Board of Control are happy to agree to honour all outright winners of the Lord Lonsdale Challenge Belt by the introduction of this badge," said Smith.
"It is a wonderful achievement for any boxer to win a British Championship and any boxer who wins the belt outright has a special place in the sport's history.
"After the idea being suggested by Ross Thompson-Jenkins at Sky Sports and subsequent discussion between Melissa Anglesea of Suzi Wong Creations and myself, I am pleased that the idea has come to fruition.
"All Lonsdale Belt outright winners, regardless of promoter, broadcaster and clothes manufacturer can wear the badge with pride."
Rose's bout with Alcine will headline a stellar night in Blackpool, which will also include Wales' Lee Selby defending his Commonwealth featherweight title against unbeaten Australian Corey McConnell and Matty Askin meeting English cruiserweight champion China Clarke.