George Groves has vowed to beat Carl Froch despite his split with Adam Booth
George Groves insists his split with Adam Booth hasn't derailed his training schedule for his fight with Carl Froch.
Last Updated: 24/10/13 2:30pm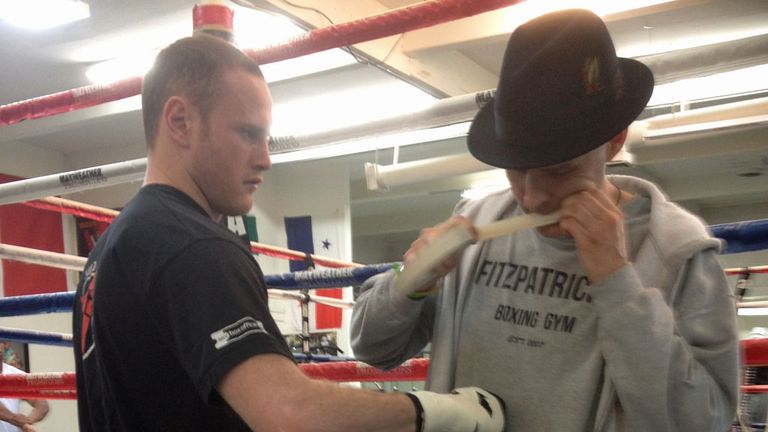 Groves challenges veteran Froch for his IBF and WBA super middleweight belts in front of the Sky Sports cameras in Manchester on November 23.
The undefeated Londoner had worked with Booth since turning professional five years and 19 fights ago, but says he's been able to stay focused on the task before him.
"Adam informed me that we were no longer working together which I accepted," Groves told Sky Sports.
"Obviously, fighting real soon, I needed to go out and make other arrangements which I did. I'm working with Paddy Fitzpatrick, who I've worked with before, a very good coach, been about, knows the score.
"But ultimately when this fight was made I knew how to beat Carl Froch, I knew what I've got to do. Paddy is there to just nudge me in the right direction and to make sure I'm doing the things that I'm telling him what I want to do.
"I've seen plenty of Carl Froch, I know I've got everything I need to beat him, it's just about showing up on the night and doing it.
"Sometimes that's easier said than done, so having a good team to prepare you correctly is spot on but as I say, ultimately, it's down to me, I know what I've got to do and I can't wait to get out there and do it."
Groves, who had been with Booth since making his debut at the O2 as a 20-year-old in 2008, revealed they are no longer on speaking terms but insisted he was not bothered by the split.
"No, not at all, relationships aren't always the way they seem on the outside.
"It was probably a long time coming, he made his feelings aware and that's boxing, you've got to get on with it and actually I'm in a much better position so I can't say I'm grieving, total opposite."
Carl Froch v George Groves is live on Sky Box Office HD on November 23