Tyson Fury confident of beating domestic rival Dereck Chisora in potential rematch
Tyson Fury says he will once again beat Dereck Chisora if a proposed rematch takes place later this year.
By Dev Trehan
Last Updated: 28/01/14 7:27am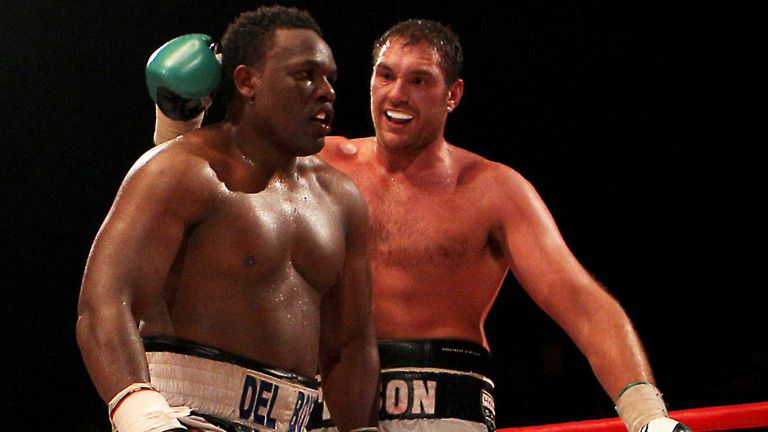 Fury claimed a convincing points victory over an out-of-sorts Chisora when they first met in 2011, with the Finchley fighter weighing in for the bout almost two stone heavier than his current fight weight.
The pair look set for a summer showdown in what is expected to be a WBO heavyweight title eliminator provided they come through their respective fights at the Copper Box on February 15.
And Fury - unbeaten in 21 fights - dismissed suggestions that Chisora is an improved fighter insisting the outcome will be same if the pair clash again.
"I'm really looking forward to facing Chisora again and it should be a really good fight for me," Fury told skysports.com.
"He's a good fighter and it's going to be hard but there's a great reward for the winner - a chance to fight for the heavyweight championship of the world.
"I don't know (if Chisora is a better fighter now). He's still the same person. It was the same Dereck Chisora then and it's the same Dereck Chisora now. Maybe he's fitter or maybe he's in better shape or whatever. You can make all the excuses in the world but it won't make any difference he's still who he is and I will still beat him.
"He might be a little faster, he might punch a little harder, but I'm also better than I was then and I will still beat him."
Fury last fought 10 months ago when he climbed off the canvas to secure a seventh round knockout victory over Steve Cunningham at Madison Square Garden last April.
He takes on 39-year-old reigning IBF Latino champion Gonzalo Omar Basile at the Copper Box, insisting he is confident of stopping the Argentine veteran despite knowing little about his opponent.
"I don't much about Basile to be honest. I know he's covered in tattoos, he's 6ft 6 and he's had more fights that have gone the distance than I have had fights.
"He's had 70 pro fights and only lost 8 or 9. He may well be a dangerous man but I'm sure I'm going to knock him out."
Defensive
Chisora headlines the Copper Box card against seasoned American Kevin Johnson who has suffered defeats to both Fury and Wladimir Klitschko in the past.
The Finchley fighter does not expect an easy night's work but revealed he is looking forward to the challenge, ahead of an opportunity to exact revenge over Fury later this year.
"Kevin Johnson is a great fight for me and I'm looking forward to it," he said
"I've seen him fight in the past, he's very defensive but we'll try and break him down. My last few opponents came to fight and he doesn't like fighting too much so it's going to be a difficult one.
"I'm looking forward to taking care of Johnson first before we move on to Fury in the summer - that's the plan.
"I want to try and set the record straight against him 100%. I'm a different fighter now. I've lost weight, I'm in great shape and I'm looking forward to the challenge."