Gary Buckland claimed a narrow points verdict over Gavin Rees in Cardiff
Gary Buckland came through a war with Gavin Rees in Cardiff that will place doubt over the veteran's future.
Last Updated: 01/02/14 11:42pm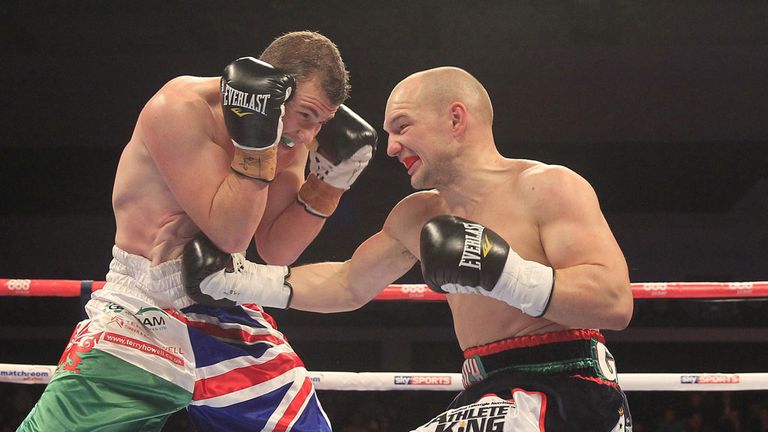 Rees, 33, was warming up for a world title fight with Adrien Broner this time last year but after three losses in succession he seemingly has knowhere to go.
It could be so different for the Newport man, who put everything on the line but came up just short against Buckland who edged a split decision 115-114 on the decisive card.
Rees began brightly with flashy combinations as his notorious handspeed saw Buckland shipping countless blows as he put the first three rounds in the bank.
Buckland, also coming off a devastating loss to Stephen Smith, was cut early on through a clash of heads but he never took a backward step and gradually clawed his way into the fight.
Rees was smashing in the body shots that soon had his opponent's torso bright red, but Buckland is made of stern stuff and continued to maraud forward.
The pair started to trade in the fourth as the pace slackened and that suited Buckland, who was able to get his shots off better and was able to find his range.
Rees caught his opponent low a couple of times but it mattered not to Buckland, who was determined to win what became a survival of the fittest.
The former European champion looked exhausted by the end of the eighth session but somehow found the heart to dig in and bravely edge the ninth.
The blows continued to rain down from both sides and Buckland was feeling it by now, but he rarely took anything without returning it with interest.
Rees continued to work the body well and the right hand downstairs clearly troubled Buckland, but after a tight 11th it was clear it all hung on the finale.
The pair, who have sparred on countless occasions, embraced prior to the bell before tearing strips off each other - Rees seemingly finding a new lease of life as the whippy combinations flicked out once more.
The action suggested to some that Rees may have just done enough, but Buckland finished strongly as well and when the scores came through it was he who had his hand raised, by scores of 116-113 and 115-114, with the third giving it to Rees by 116-113.