Carl Froch admits George Groves rematch is ideal chance to prove he is true champion
Carl Froch believes the mandatory rematch ordered by the IBF gives him the chance to 'put George Groves to bed'.
Last Updated: 08/05/14 3:28pm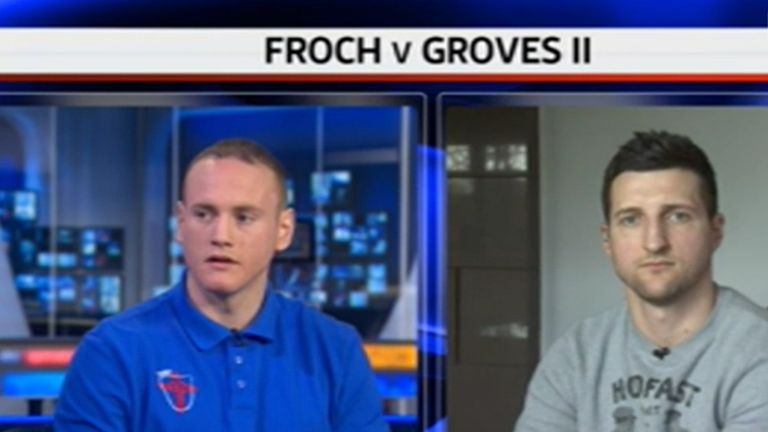 Froch retained his WBA and IBF titles with a controversial ninth-round stoppage in Manchester last November but the decision infuriated Groves who claimed referee Howard Foster had been premature in calling a halt to the contest.
The Londoner, who was ahead on points at the time of the stoppage, took his case to boxing's ruling bodies in the States and the IBF ordered the May 31 rematch which will be broadcast live on Sky Sports Box Office.
"The feedback after the controversial stoppage from the paying public was that they were unsatisfied as the fight didn't reach a natural conclusion," said Froch.
"I know that George Groves was gone, even the people that thought the referee stopped the fight too early, still agree that the fight was only going one way which was George Groves being flat on his face.
"He knows he was badly hurt and the referee did him a massive favour. But there's still the question mark hanging over us and now I finally have the chance to put that to bed and that is what I am going to do."
But a defiant Groves is convinced he will grab the chance to show Foster was wrong to pull him out of the fight.
Great lengths
Speaking on Sky Sports News after signing the contract alongside promoter Eddie Hearn, he said: "I'm really, really chuffed to be honest. Not for one second did I think Carl Froch would take this fight.
"I went to great lengths to put myself in the best position possible to force Carl Froch into this fight, making sure there are no other options out there for him.
"I also wanted to make myself the mandatory challenger for the IBF title so he would have to vacate or be stripped if he didn't want to fight me. So I am just truly, truly excited and chuffed to be here."
But Froch accused his rival of 'whingeing and moaning to get the fight on' claiming he had tried everything in his power to force the rematch.
"Since the first fight George has done a lot of moaning and has gone down many different avenues to try and make certain things happen in his favour.
"But the only thing he has done is put himself in a position where he's now mandatory for the IBF, which is fine.
"The British public are behind this and this was almost the only fight out there for me to reasonably take. I've given the British public what they wanted for years and years and I won't stop doing it now."
A defiant Groves insisted the IBF had no option but to order the rematch considering the controversy created and rubbished Froch's assertions that his 'persistent moaning' had brought about the decision.
"It's not about that," he said. "I have righted the wrong. I was mandatory the first time round, the fight finished incorrectly and the IBF agreed with me.
"OK, it's a process, so you have to submit your evidence. I had to go to New Jersey and present my case... and it seems like it is a long, drawn out process but all I did was win my appeal.
"Carl has to fight me now because the fans demand it and because I am mandatory for the IBF title so that's where we are at.
"If people want to call it whingeing I will happily whinge to get my world title fight but I haven't had to talk myself into this situation, I have had to go down the legal route which is much more satisfying."
Sky Bet make Carl Froch 8/15 to win the rematch with George Groves marked up at 6/4